Bamboo Rod Building Classes

---
Classes: With some sadness we announce our retirement from teaching bamboo rodmaking. If you would like a reference to others offering classes, just email us! Thanks to all who attended over the years, and happy rodmaking!
We are on again for 2021! If you are interested please email us. Our classes will again be held at the magnificient Sunnybrook Trout Club in Sandusky, Ohio. Students will spend the days building their own split cane flyrod and evenings casting for big, feisty trout on the 1-1/2 miles of private trout water or in the 10 acre bass pond. The reasonably priced package includes tuition, first-class lodging and three meals daily for 5 days, and all club amenities.
These days, a number of builders are offering cane rod making classes. It's only natural for any prospective student to wonder which bamboo rodmaking class to attend. No knock on anyone, but we feel that as full-time builders for over 20 years we possess substantial experience that is so vital in acquiring expertise...both as builders and as teachers. We probably build as many rods in a month as typical hobbyist will build in a year, and we guarantee that your attendance at our course will give you a substantial jump on the learning curve.
While learning the craft of cane rodmaking we guarantee you'll have a ball. We don't subscribe to the idea that bamboo rodmaking is 'rocket science'....in fact, it's just the opposite: anyone can do it! We've taught men and women, teenagers to golden-agers. As such, the atmosphere we foster at our classes is anything but a 'boot camp'. It's all about having fun and learning a new craft and demystifying the process. We've had people attend who've just wanted to build one rod and thereby not have to invest in all of the necessary tooling, and we've had people attend who continue to build as a rewarding hobby...some have even become professional builders!
And the facility? It's out of this world! You'll do your fishing on a heavily stocked Spring Creek. The food is magnificient...you might even gain weight during your stay!
We do this work for a living, which has allowed us to hone and focus our skills appropriate to a level an instructor should possess.
Class Package Includes:
Class Instruction
All Building Materials including cane, ferrules,cork,reel seat, guides and tip-top, silk thread, rod bag and tube.
Course Guide
Private Room for 5 Nights
All Meals
Optional round trip ground transportation to and from the Cleveland Airport for those coming by plane only $40
Catch and Release Fishing
Class diploma and DVD photo Slideshow of your Experience
Package price is $2,275
Save time, money and frustration by learning rodbuilding techniques and low cost alternatives to commercially available machines
Class sizes are limited to four students to insure plenty of personal attention. In addition, we are offering a $150 discount on our class for any customer that purchases or already has purchased a set of our planing forms. When you consider all of the additional costs of attending other classes(meals, lodging, fishing license, etc.) we believe we are providing an unbeatable value. Enjoy your vacation in gorgeous surroundings, learn a new skill and take home your very own cane rod. Please contact us for complete details including a registration form and course syllabus. We have a blast doing this and classes fill quickly, so please reserve a spot early!
"We just received the DVD of the pictures (set to music........ nice choices!) of our class last week and I wanted to thank you once agan for the simply outstanding experience. Frequently people who are exceptional craftsmen are not good instructors; you break the mold with your history of cane rods, excellent instruction, tremendous knowledge, experience, patience and sense of humor. The accomodations and dining are great, and fishing in a park like setting is wonderful. Finallly, the tone you set helps creates a positive chemistry between the students that makes that classes fun and leads to some great evenings together after fishing just hanging and swapping stories. Oh, and of course the cane rods we left with........... they are absolutely stunning. With all those factors plugged into the equation, your class is an exceptional value. It was an experience as individuals, and expecially as father and son, Even and I will always cherish.
Best Regards, L. Andrews, CT
"G'day Jeff! Here I am back home to an early spring day. I want you to know that my week spent with you was absolutely superb. The course was so well constructed with so many highlights but and I especially enjoyed the sessions in the library. What a venue. What a laugh. Thanks Jeff for one of the best courses I've ever done. While I won't be chucking the day job out .....yet .I am looking forward to my bamboo life." -DH, Tasmania
"What a great experience! I could not have asked for a better teacher, class organization or environment for a rod class. The facilities at Sunnybrook were great and the end product of my rod is more than I could have hoped for. My boss at Woodcraft was quite impressed and is still trying to figure out how I could plane the tip section that small and glue it up into a rod. Thanks for everything. I am already making plans to build my beveler and build my next rod." - EK, Ohio
"Thank you for the terrific class ! It was all I had hoped for and more. I learned so much so fast - you have created the ideal "rod makers habitat".-M. Audie, Alaska
"I enjoyed the class and everything around it! The guys and Rosie were all great to be with. The food was excellent the company great. Regards to Mr. Lamb and his staff. What a great time I had!"-M.Trujillo, Colorado
"I know you don't want to be "poobah-ized" but too bad. You really are a master. I learned more from you about rodmaking in 5 days than I would have learned in years of work alone at the bench. Thank you.
Plus! Your class was so much fun I'm sorry it's over. I'd love to do it again."- RC, ILL
"I just wanted to thank you for the great time I had at your class. It was everything I had hoped for and more, and I know Jim feels the same way. I certainly enjoyed the shop work, but I also really enjoyed the "social" part of the week."- TG, N.J.
"Jeff, I wanted to thank you further for the outstanding class last week. I know how much work goes into putting something like this together and your class was both professional and entertaining. The depth and quantitiy of material would have been overwhelming if it were not presented in such a concise and easy to understand manner. I have a couple of coats of varnish on my rod now and plan to have it finished this weekend. It is a thing of beauty and far surpasses anything I expected for a first rod, much less a tenth or fifteenth rod. I will send you a pic of the first trout I land with it. Thanks again."- M.K., TX.
"Thanks Jeff, it was truly a fun and rewarding experience. You set an atmosphere that made learning easy, and the location and facilities couldn't have been better. It was also great to share this experience with two true gentlemen and wonderful guys in Dan and Fred. I had a great time and enjoyed every minute.
Take care," -Dave E, Omaha
"Jeff,
An unqualified Amen to everything Dave has set forth. It's rare (and great fun) to see such skilled instruction in any subject matter.
I feel very lucky to have had the experience, and doubly so to have had it with such fine classmates.
Best," -Dan H, Erie
"It was a great 5 days with the rod making and instruction as well as the fishing.
To think I was going to attempt building a rod from books. It would have taken 5 years.
Thanks to all for the good time and comradeship" - Fred N, Ontario
Tentative Bamboo Rod Building Class Dates for 2021!
We are now taking registrations for our 2021 rodbuilding classes- contact us for a class brochure, syllabus and registration form.
ALL SPOTS FOR 2021 ARE FILLED. HOWEVER, IF YOU WOULD LIKE TO BE ON A STANDBY LIST, JUST EMAIL US!
July 24- July 29, 2021 Basic Bamboo Rodmaking FILLED!
July 31- August 5, 2021 Basic Bamboo Rodmaking FILLED!
Beautiful Sunnybrook Trout Club
The Gorgeous Workshop
Enjoy 1 1/2 Miles of Private Trout Water
Relax in the Den, Library, Sunroom or Your Private Room
---
2021Rodmaking Classes
2021 Cane Rodmaking Class I: Terry Ragsdale, Ronald Blome, William Richardson, Chris Carr
2021Rodmaking Class II: Tom Corley, Aaron Monroe, Phillip Mueller, Edward Kitchen
2019 Rodmaking Classes
Dwayne Taffs, Rick Lafferty, J. Eric Sorensen, Jason Carter
Peter Taran, Mark Kieschnik, Robert Fox, Sandy Shew
2018 Rodmaking Classes
Jim Holm, Leslie (Les) Jacobs , Leslie Fain, John Fain, II
Peer Jacobson , George (Bill) Schleifer, Karen Schleifer, William D. Kessler
Monica M. Shell, Stephen P. Andrews, Charles (C.J.) Honan, Jr., Matthew Honan
2017 Rodmaking Class
Greg Spotts, Brian Daley, Michael Zailo, Michael Koch
2016 Bamboo Rodmaking Classes
Jerry Fisher, Daniel Warner, Gary Marich
Lawrence Myers, Leon Rodgers
2015 Bamboo Rodmaking Classes
Dan Hill, William Kessler, John Weimeister, Mathew Gourlay
Iain Skinner, Peer Jacobson, Gordon McGill, Lawrence Poole
2014 Bamboo Rodmaking Class
Gregory Tipsword, Anthony Blair, Eric Reddish, Douglas Johnson
2013 Bamboo Rodmaking Classes
Taylor Haynes, Frank Angelotti, Charles Neeson
Darren Kidwell, Alex Vardanis, David Anderson, Dan Hesselink
Fredrick Netherton, David Everhart, Dan Hill
Wow, what a year!! We were blessed with cool weather and many great and interesting students! This was also the first year we've hosted an advanced rodmaking class- Quad Rodmaking- and it was a smashing success. It was quite a thrill to see the work of all 4 students(3 of which took our basic course in prior years), and also have in attendance Mr. Alex Vardanis, 80 years young and an accomplished builder in his own right! Also, Mr. David Anderson who came all the way from Australia to attend the advanced class! I was sorry to see it all end. Thanks everyone!
---
2012 Bamboo Rodmaking Class
Anders Kjaergaard, David Anderson, Ken Bradbrook, Steven Cox
Man, did we have a great time! It was such an honor to host 3 students from overseas: two from Australia and one from England! Great job, guys!!!
---
2011 Bamboo Rodmaking Classes
Wow! What a great time we again had at Sunnybrook. We had friends from all over the country, with one student coming from Tazmania and another from the UK! As usual, everyone did very well and the food, fishing and experience at Sunnybrook was excellent! Cheers!
One of the highlights of the classes for me was seeing a rod that was purchased for attendee David Hemmings' 50th birthday. It turned out that this gorgeous rod was made by Nick Taransky , who attended our rodmaking class nine years ago. Nick went back home to Australia and established his own shop, worked his butt off and is doing some extraordinary work. Seeing the rod was like Nick had 'come back' to Sunnybrook and the circle was made complete!
Adelaide Lee, G. Michael Bagley, Mel McKinney, Edward Kitchen
James Foose, James Cherney, Alan Grice-Jackson, David Hemmings
2010 Bamboo Rodmaking Classes
Another great year of rodmaking classes! We had folks from all over the USA and one very long distance traveler from Australia. The weather for the most part cooperated, except for a few hot days, which didn't affect us much in our new air-conditioned shop. As usual, we had a blast and many new friends were made.
Mark Verhoeven, Jonathon Heckel, Norris Heckel, Art Friedlander
David Montambeault, Gregory Monigold, Michael Kazak, Jack Bruner
2008 Bamboo Rodmaking Classes
We were incredibly blessed this year! We had fantastic weather, and the brightest and most enthusiastic students ever! In addition, this was a big year for father/son class duos...we had three, and they had a great time sharing the experience with each other. Some great memories were made!
Phil Mutch, Peter Mutch, Brian Barnes, Robert McClintock
Moe Sweeney, Fred Bender, Daniel DiStefano, Larry DiStefano
James Nothstine, Chris Nothstine, Larry Andrews, Evan Andrews
2007 Bamboo Rodmaking Classes
Well, it was another great summer at Sunnybrook. We had people attend from as far away as Washington and Texas. The weather was pretty great, the fishing was good, and the craftsmanship and fellowship even better. Thanks to everyone for attending!
Leonard Tobler, David Chastain, James Logue, Clark Johnson
Tyler Lynch, Monte Collins, Dan Hesselink, Thomas Edmonds
2006 Cane Rod Making Classes
Before this year's classes began, I was thinking about taking 2007 off from teaching. I don't think people realize until they come and experience the class, how much time, prep work and organization it takes to put together this event. But I had so much fun with these two classes that by the end of the second week I was scheduling next year's classes with Sunnybrook. Man, did we have a ball! So, thanks to everyone for being such great students!
John Foord, Ken Greenwalt, Robert Gettleman, Darren Kidwell
Patrick Loehrlein, Dale Clement, Paul Klein, Fred Pashkow
2004 Cane Rod Building Classes
It's taken me a year to get these pics up, but here's some class pics from the 4 sessions we taught in 2004. As usual, we had a great time and some fine rods were made!
Since we started teaching in 1999, the popularity of the class and craft of split cane rod building continues to grow.
In this session, our award for long-distance traveler goes to Gino Maddalena...who came all the way from Nova Scotia!
Big smiles, nice rods!
---
July 19-24, 2003 Bamboo Rodmaking Class
Wow! Another great rodbuilding class...what a pleasure it was for me to teach these summer sessions! We were blessed with another week of mild and cool weather, great fishing, and some talented students!
Michael Wolford, Nancy Combs, Kevin Bingham, Lan Bingham
I was looking forward to this class for many reasons. First, it was great having our first pair of brothers attend, Lan and Kevin. Lan's lovely wife had purchased a rod of our's for Lan last year but we hadn't met in person, and Kevin's dog had nipped my heals once at Sunnybrook. In addition, a few months ago we got an email from Nancy asking us if a spot was still open. She seemed quite excited, and we were very happy to have her sign up. It's great having women attend, and I wish we had more of them enroll. Mike had met us in Cincinnati a couple years ago and we were looking forward to meeting again this year, but our plans were thwarted by a freak February ice storm.
We started as we always do, over a dinner of filet mignon during which we got to know each other a bit. Over desert, I gave a little talk about the history of cane rods and a brief overview of the class schedule, then we were out to do some fishing! After a full breakfast Sunday morning, we were out flaming, splitting and straightening bamboo. This is Lan filing a node on a culm.
After dressing the nodes we began to split some bamboo. This is Kevin, making perfect splits right off the bat!
After learning about how to rough out strips, how to sharpen and the basics of a block plane, we next covered tapers and how they relate to rod action and the planing form.....so the next step was to get the forms set. This is Nancy, who was a wiz at setting her forms.
Nancy is a nurse, so I couldn't help calling this her 'Nurse Ratchet' photo. Yuk, yuk! Mike proved to be an excellent craftsman and won the 'best glue lines' award from me. He had a bit of experience woodworking, and was soon planing away cane at an incredible pace. Sure hope this guy doesn't 'turn pro'....
Tuesday is traditionally glueup day. Here's Nancy mixing and spreading glue.
We moved along quite quickly, thanks to the hard work of the class. That meant that we could take some time to relax a bit, do some extra fishing, etc. Kevin worked a bit quicker then Lan, so here he is taking a break while his brother toiled away.
There was some good natured brotherly ribbing including a story about Kevin and dog food, bit we won't repeat that here. The next step was turning the grips, and here's Mike working on his.
Another nice aspect of learning the craft in a class setting is that it allows you to try tools like this Sherline lathe prior to purchasing them. With this knowledge, you can make wise purchasing decisions and save a lot of money.
All too quickly the week came to an end, and our summer classes were over. I want to thank everyone for their hard work and support, and hope you can forward some pictures of your rods and fish caught with them!
July 12-19, 2003 Rodbuilding Class
This class couldn't have gotten any better: enthusiastic and talented students, absolutely fantastic mild weather, and the usual Sunnybrook hospitality! This class was attended by students from PA, OH, IL and MN.
Ron Caimi, Steve Yasgur, Michael Daniels(Joel Epstein not pictured)
As usual, we began by learning all about Tonkin cane and students were splitting cane like pros in minutes. Ron and Steve, who had both built some rods prior to attending the class, were amazed at how easy it can be once you learn a few tricks!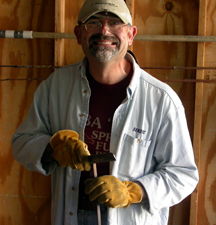 This is Steve Yasgur. Why is he smiling? Because he just learned how to split strips without waste and hassle!
In no time the students had reduced the culm to 48 perfect strips and then learned how to straighten and dress nodes. After they learned a variety of methods to rough out the strips into equalateral triangles, we jumped right into a discussion of tapers and began to set the forms. This is Michael setting his forms for his rod.
After we got the forms set, and a lecture on sharpening, the guys planed like no one's business. Man, what a fast group! And the quality of their work? Outstanding! This is Ron making a nice pile of perfect shavings.
It amazes students-and still amazes me- how that large hollow tube of grass can be formed into such delicate yet strong rod strips. Here's Joel with the raw material and his first butt strip.
By early Monday, everyone had their butt strips completed and we began the tip strips. The process of planing them is the same, but man do those strips get tiny! It just doesn't seem possible to make them without them breaking or to visualize how they'll ever come togther to form a tip, but they do! This is Michael with his first tip strip.
By Monday afternoon everyone had their strips done, so we spent some time going over rod repair and restoration. Tuesday was glueup day and we learned all about different glues, how the binder works, and soon we were getting our hands sticky.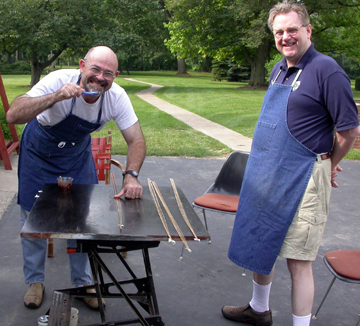 The students next learned about cork and forming grips, how to buy a lathe and how a lathe functions, and they were soon turning their own grips. The also leaned the Legend of the Swantzengrippe. This is Joel making cork dust.
Between all of these steps the students learned about silk and practiced various wrapping techniques and finishing options, ferrules and how to prep them, etc. Because they were so fast and talented we had plenty of time to relax and just enjoy the fishing and Sunnybrook atmosphere. Thanks for everything guys, and outstanding work!
---
2002 Cane Rodbuilding Classes
This year marked our fourth consecutive year of rodbuilding classes, and as usual a great time was had by all. One of the real pleasures of this year's sessions was the attendance of two women, Miri Robinson and Vickie Bjeda. We met both during our spring show season and wish that we could have more ladies attend as participants! So ladies, if you are considering attending we can assure you that you can learn this craft and that no special strength or skill is required.
July 13-18, 2002
Jerry Freund, Milton Trujillo, Ed Sarvano, Jim Hogle
The first class got our season underway in great fashion. Both Ed and Jerry(and his lovely wife Rosie) came in from PA, Jim flew in from MA and Milton from CO.
July 20-25, 2002
Russell H. Dabney, Nick Taransky, Miri Robinson
As mentioned, we met Miri and her husband Nick at the flyfishing show in College Park, MD. Russell and I have conversed many times via email over the years...it was nice that he finally was able to fit the class into his schedule. This class was a breeze with only three people and Russell had built some very nice rods already, so he was way ahead of things which meant I had extra time to keep an eye on Nick. Nick and Miri were here in the States, but have now returned home to Australia. Hey mates! Russell is from GA, which is kinda like another country, too.
July 27- August 1, 2002
Thomas Offutt, Ramsey Yoder, George Klein, Charles Walton
Ahh...local boys done good. All of these gentlemen are from Cleveland and belong to a secret fraternity known as the Hookers and Bangers. They take a number of trips together each year -all over the world- so it was a real honor that they all signed up to attend. Charlie's rod finished out extraordinarilly well.
September 14-19, 2002
John Roboski, Randall Martin, Vickie Bejda, Fred Appel
What a collection in this group! John came in from Alabama, Randall from Texas, Vickie and her husband Allen from NJ, and Fred from NM. We were blessed with some really great, cool weather and a lot of laughs together. John(said with 3 syllables) kept us in stitches while I kept Vickie in band-aids....John was unwilling to share his special antidote. The term 'butt cap' will always make me laugh after being with this crew.
Check out photos of the 2001 Bamboo Rod Making Classes
Check out photos of the 2000 Bamboo Rod Building Classes
Check out photos of the 1999 Bamboo Rodmaking Class!
---
---
!!!!!!!! Special Offer !!!!!!!! Order any J.D. Wagner flyrod with a Hardy reel and we will fill the reel with backing and a Cortland 333HT DT flyline for FREE!!!!!!!!!!!
---
© Copyright 1999, 2000, 2001, 2002, 2003, 2004 , 2005, 2006, 2007, 2008, 2009, 2010, 2011, 2012, 2013 J.D. Wagner,Inc. all rights reserved.

---