2000 Cane Rodbuilding Class Photos
September 2000 Class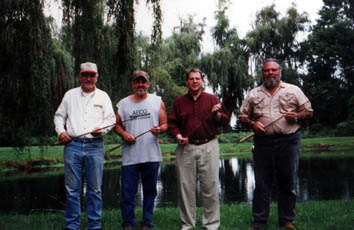 Gary Elledge, John Martens, George HolmstromIII, Bill Lent
Here it is, February of 2001, and I'm just finally getting these pics up from our September 2000 rodbuilding class. This class was somewhat different then others in that everyone had some rodbuilding , metalworking or craft skills prior to attending. This is by no means necessary, but it does make it easier on the instructor!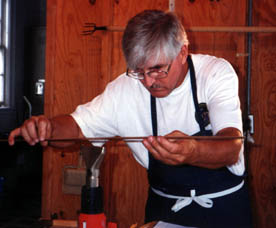 This is Gary Elledge of Alpharetta, GA. Gary makes a living working on high-performance racing engines and is very well versed in the machinist trade. He also does quite a bit of gunsmithing work, and my guess is that he stopped at every gun store between Sandusky and Georgia on his way back home. Now he just needs someone to wrap his rods.....
This is John Martens of Crete, Illinois. John had already made several very nice rods prior to attending the class, but his wife paid for his tuition as a 50th. birthday present. A retired ironworker, John was dubbed 'Mr. Equilibrium' by his classmates for his grace and balance. Take care of that ankle, buddy.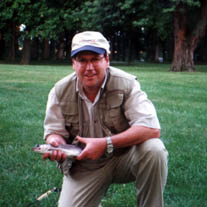 This is George Holmstrom of Camden, SC. with the first trout he's ever caught. George took this 'bow on a black wooly bugger. In the evenings he regaled us with his take on the 'war of northern aggression'. George is an accomplished salt water angler recently converted to fishing for trout.
This is Bill Lent from Stamford, CT. Bill is a cabinetmaker by trade and also has quite a bit of experience building graphite rods. He also guides in the salt. Bill took the class to get some experience, and has since turned 'pro' and has built quite a few rods.
Everyone did a nice job, and a great time was had by all. Thanks guys!
---
Our Summer Class of 2000
Janice Richards, John Trinkle, Richard Barnhart, David Wilson
Well, once again we had a great time at Sunnybrook! This year's class brought together folks from Michigan, Canada, Pennsylvania and Illinois. We are proud of all of our student's efforts, but especially that of Janice Richards- the first woman who had the courage to sign up and come build a rod with us. Janice had a desire to learn how to build rods so that she could make gifts for her grandchildren, and we're certain that they will be family treasures.
This week was mercifully cool, but everyone worked up quite a sweat anyway. We worked from 8am to 6pm, at which time we all sat down for dinner. Our host at Sunnybrook, Greg Wallrabenstein, fed us well: prime rib, filet mignon, a HUGE baked pork loin, and some very special deserts. After dinner we all strung our rods and out we went to fish.
The fishing was good and the fish cooperated to quite a mixed bag of flies. Small midges, ants, beetles and attractors all worked well. Richard Barnhart introduced the Sunnybrook fish to the classic New England fly, the Hornburg, and many fell for it! The fishing was good even well after dark with fish rising to take large Green Drake and Hex patterns.
The class progressed easily through the entire rodbuilding process: splitting, strightening strips, sharpening and planing, gluing, ferruling, and shaping their grips.
We had also had a special visitor, Doug Seifert. Doug attended our class last year and came to fish for a few days and show off his rod. He left me with a photo of the rod along with his first fish, a nice brown caught in his then-home of Norway. It was good to see Doug again, as well as being able to see what a nice job he did finishing it out.
At the end of the class we all decided to plan a class reunion for next year. Hopefully everyone from our previous classes can get together with their rods for a couple days of fishing and comradarie at Sunnybrook.
Wanna Learn How to Build Your Own Cane Rod? See our Cane Rod Making Class Page!