Patriot Series Rods
---
We are very proud of our Patriot Series rods: an economically priced, no frills, cane rod. The intention of this line is to provide a high-quality, fine casting tool for those desiring an introduction to the exceptional qualities of cane rods.
These rods are single tip flamed cane rods, finished with a proprietary hand rubbed, penetrating, polymer finish for low maintainence, and available in 2-piece or 3-piece models. From time to time, we may have Patriot rods available in Quad and Penta design. Please inquire.
The rods have a modified cigar grip with highest quality CSE oxidized nickel silver ferrules and nickel silver reel seat hardware, with forest green color-preserved silk wrappings. Complete with a cloth bag and aluminum case, our Patriot Series rods carry the same lifetime guarantee in materials and workmanship as our Signature Series rods.
These rods have a crisp, responsive, dry fly action.
MODELS
6'3"
---
3-4wt.
7'3"
---
4-5wt.
7'9"
---
5-6wt.
PRICE

2 Piece: $845

3 Piece $945

Extra tips: $400/$300 for 2 and 3-piece rods, respectively.

Quads, when available: Add $100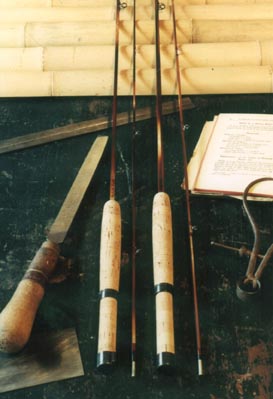 Just to let you know, my Patriot goes to "work" with me almost every day during the field season and I have logged MANY hours on the stream with it. It has caught over a dozen species of fish with me and is still straight as an arrow and I really believe is just hitting its stride. I'm pretty sure it will be around longer than myself. I only own a couple rods and it is basically the only rod I fish with unless I'm in a canoe. It would be nice to have its larger cousin to tackle tailwaters with weighted flies and the occasional small mouth bass. Thanks and take care.
CW
---
© Copyright 1999,2000, 2001, 2002 , 2003, 2004, 2005, 2006 , 2007, 2008, 2009, 2010, 2011, 2012, 2013, 2014, 2015, 2016, 2017, 2018, 2019, 2020, 2021 J.D. Wagner,Inc. all rights reserved.

---