2001 Cane Rodbuilding Classes
This year saw a further expansion of interest in our bamboo rodbuilding classes, and as a result we filled our available spaces for all three summer and fall sessions by about January. As always, it was great to meet everyone and I'm looking forward to next year's sessions.
July 14-19, 2001 Session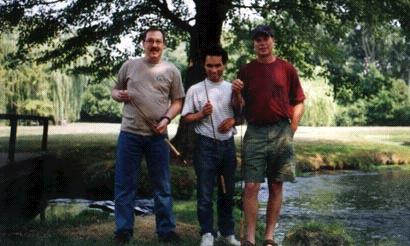 Mark Audie, Takatoshi Kumakiri, Rick Cooley(not pictured: Stan Witkowski, Jr.)
This group kicked off our 2001 rodbuilding class season in grand fashion. Everyone did a great job, and a lot of fun was had by all. Sadly, Stan Witkowski had to leave early but not before getting his blank all glued up....and leaving me with one of his black deerhair mice(more on that later).
That's Takatoshi Kumakiri ('Kuma')on the left, and Stan Witkowski on the right. Kuma won the fastest planer award and zipped through every step at breathtaking speed. Since the class ended he's stopped by the shop on numerous occassions to show off the additional rods he's built. One of these was a very nice, semi-hollow version of a Paul Young Texas General that I'm sure is seeing a lot of action on the local steelhead waters.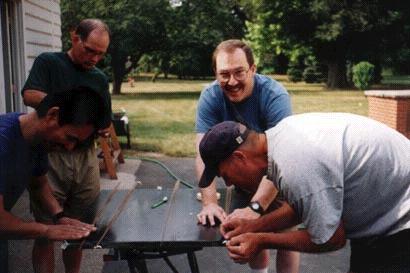 This is glue-up day, with Kuma and Stan on the left, Mark Audie and Rick Cooley(aka 'netboy'). Look at them working feverishly...rolling out those blanks before the glue sets. Mark won the 'long distance traveler' award for coming all the way from Alaska to attend! Thanks, Mark! Rick won the award for superior netting talent.
This is Kuma again...he sure didn't need Rick's help netting this monster! I've got a bigger Rapalla then that fish! Haha. On the last night together, we were all out night fishing. Stan had left me with a huge black deerhair mouse which I decided to try out on my 8' Hunt model. After just a few casts, I hooked into this baby....and yelled frantically for Netboy. He and Kuma came running and after a few minutes, Netboy scooped this old gal right up. Many thanks to Rick aka 'Netboy' for the timely assistance, and thanks again to Stan for the fly.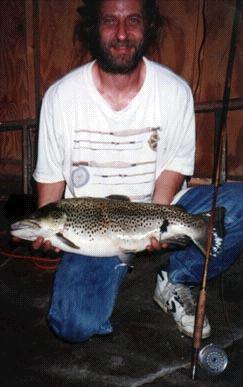 Now that's a fish, Kuma. From time to time Sunnybrook gives up a very big fish. This brown went 11 lbs, 7 oz. and will be displayed at Sunnybrook.
A while back Rick sent us a beautiful framed memento of our time together. It is a very nice letter and numerous pics of us during the class, as well as a fine shot of his completed rod next to a small stream waterfall in Michigan. It's being displayed in our office and we'll be taking it along with us for our 2002 show season. Thanks a million, Rick!
July 21-26, 2001 Session
This was a class of two firsts: the first father and son team to attend our class, and the first time we had a student come back for a second class session!
Calvin Lane, Richard Steinmetz, Nicholas Steinmetz(not pictured: George Holmstrom)
After one of the most beautiful spring seasons ever, summer arrived with a vengeance! I'll always remember how hot the weather got during this class session...it could have been promoted as a combination rodbuilding/weight loss clinic! But everyone persevered and some fine rods were made.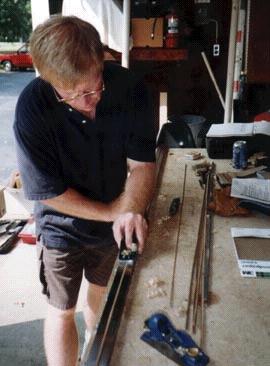 This is Calvin Lane from Street, MD. Calvin got bit by the rodbuilding bug after we met him at the flyfishing show in MD last January. He started getting his materials together for the class and developed an interest in collecting old planes. By the time he attended the class, he had a whole tool box full of them! If anyone has an old Stanley for sale, I'll forward his email address!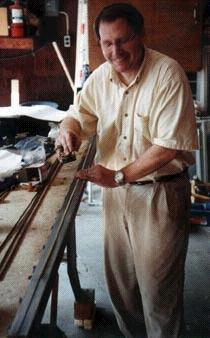 This is George Holmstrom from Camden, (northern)S.C. George attended our class the previous year and had such a good time he came back for seconds. Wow! Thanks, George. Because he had built a flyrod the first year, he wanted to do something different this year, so he made a cane baitcasting rod. Despite my ribbing that George is a slow learner, and living proof that I can teach anyone rodbuilding, he did a great job and built a beautiful rod. Hope you get lots of 'specs' with it George! Thank you.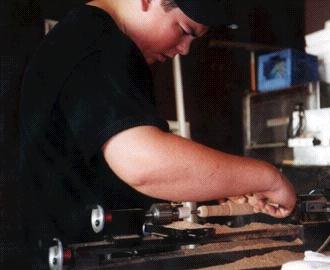 This is Nick Steinmetz of Royal Oak, MI. Rick and his dad, Richard, attended as our first father and son team. Nick also got to be known as 'Scudmaster N' for his prowess with that fly. He took a rainbow that he estimated at 5 lbs on the last evening(send me the pics, guy!). All kidding aside, he's one heck of a young man and was the angler of the week.
In this pic he's turning the cork grip for his rod. We all watched in amazement as he invented a new grip shape(der swantzenhandle?) right before our very eyes. It was both comfortable and familiar, if a somewhat novel shape. I predict it'll be a big hit with the ladies.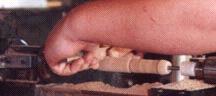 I thought it was great that this father and son duo have a shared love for flyfishing and the outdoors, and I hope they are getting the time to spend together on the stream with their rods.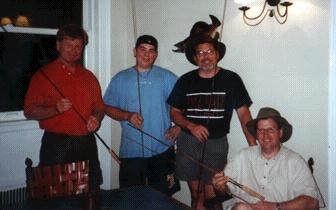 This is our last evening together. George had a long drive back to NC, and left early the next morning and missed the group photo shoot. As the evening wore on, I found a big Hex fly and Calvin came down with his camera gear(another addiction) and took some really fine shots. This is one of his shots of some of the fish at Sunnybrook. Thanks guys!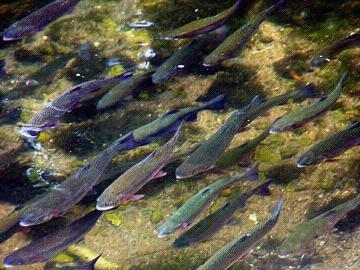 September 8-13, 2001 Session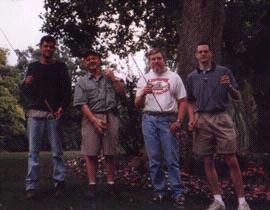 Merrit Sullivan, Kent Bice, Bill Manthey, David Shepeard
Another great class with attendees from all over the US. David Shepeard came from Franklin, TN to learn the craft. Since the class has ended we've stayed in touch and he sent some pics of the beautiful shop he's built...it's pretty awesome.
This is Bill Manthey of Ohio, practicing his guide wraps on a beautiful, bright September day. Not a bad environment to learn rodbuilding, if you ask me.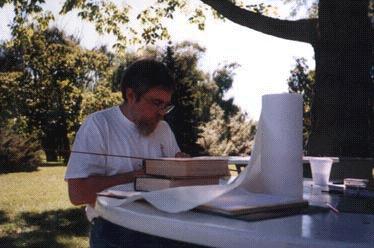 Kent Bice drove in from Lima, Ohio. Kent is shown straightening his blank. We were honored to have Kent attend as he turned down a trip to Alaska to attend the rodbuilding class instead.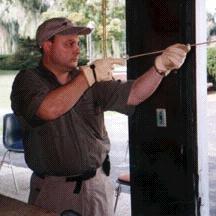 Merrit Sullivan flew all the way from Washington State, and won the long distance traveler award. Merrit was quite unique in that although he's been tying flies for a while, he had yet to catch is first trout! All week he preferred not to fish until his rod was completed, but in the meantime kept us in fish catching patterns!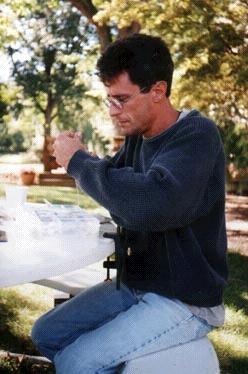 On the last evening he taped guides to his rod and mounted the reel seat. We walked out to the water and within a couple minutes he caught his first trout on a fly he tied himself (If I recall correctly he took this rainbow on a Royal Wulff) and the cane rod of his own making. That's a very distinctive accomplishment in the world of fly fishing!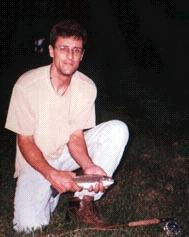 We were in the middle of glue-up Tuesday morning when word came in about the WTC terrorist attack. Because their flight plans for return home were disrupted they stayed an extra day at Sunnybrook..not a bad place to be 'stuck'.
Wanna Learn How to Build Your Own Cane Rod? See our Cane Rod Making Class Page!