Tribute To The J.D. Wagner Summer Rodmaking Class of 1999
What do you get when you bring together:
a nearsighted opthamologist from New Jersey
a retentive microscope repair technician from Michigan
an oil executive from Norway
a teetotaling oenophile from California?
Well, what you get is one heck of a good time as these folks composed our first cane rodbuilding class. These guys were really on the ball and we quickly progressed through all of the steps necessary to build their own cane rods from scratch. They worked tirelessly from dawn 'til dinnertime and we spent the evenings together fishing and shooting the breeze. Student Jim Short from Michigan generously tied beautiful flies in his 'spare' time, and kept us in fish-catching patterns. Vern Glick from California entertained with tales of his winemaking exploits, and promised us all free bottles of his finest vintage. Bob Nunn, M.D. from New Jersey regaled us with the inside scoop of flying a single engine plane and promised to stop by our place on his next trip west. Finally, Doug Seifert(pronounced sigh-fert)of Norway impressed everyone with his exquisite taste in cane rods by fishing a bamboo rod by an unidentified midwest rodbuilder, and then paid further homage by stealing the grip dimensions to use on his rod.
The guys really worked hard and did an outstanding job. By weeks end they had their rod blanks planed, sanded, glued, straightened(sorta), ferrules and grip mounted and ready for finishing. Jim couldn't wait to tape the guides on his rod and take it out for test casting. A melee ensued as everyone tried to get their hands on it, but no one was seriously hurt. Finally, as we all parted our ways Doug and Jim were still fishing, and they may still be there yet...if not in body, at least in spirit.
Thanks guys, and good work! It was a pleasure being with you.
Everyone Hard At Work Planing
Doug Tries to Remember Which Way the Binding Cord Goes, Meanwhile Vern's Glue is Getting A Little Tacky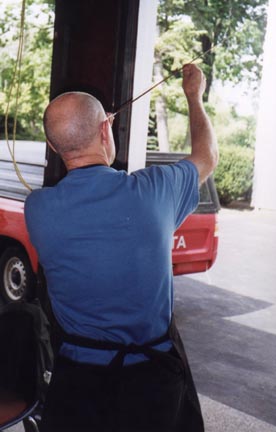 Vern Glick Straightens His Rod...Hey, is that glare??
Doug, Vern and Dr. Bob 'Borrowing' Grip Dimensions
Dr. Bob waits, and waits, as Jim Turns his Ferrule Station
Dr. Bob Preps His Grip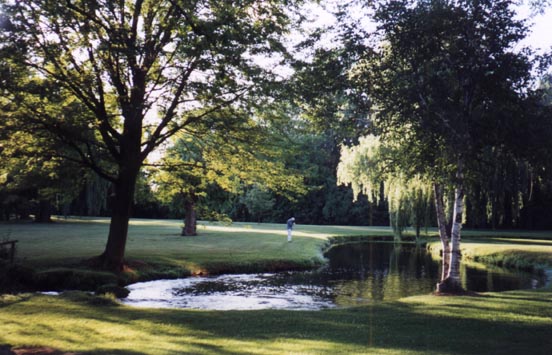 Dr. Bob Working Over a Riser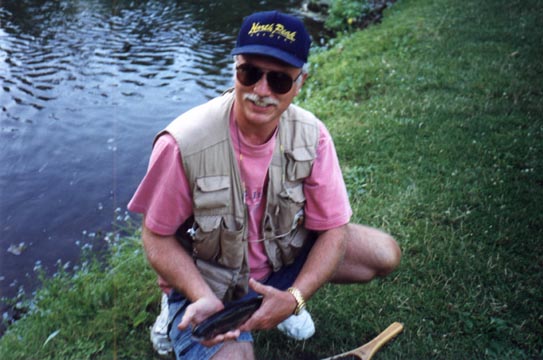 Fly-Tyer Extraordinaire Jim with One of Many Caught on His Creations
Everyone With Their Finished Blanks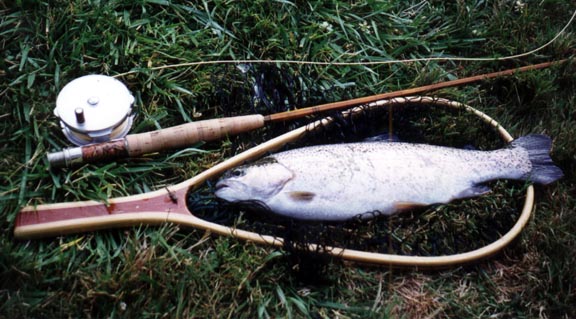 Nice Fish Caught By Doug, Pretty Snazzy Rod Too!
Doug from Norway
Wanna Build Your Own Cane Rod? See our Bamboo Rod Making Class Page!