The Wagner Classic Series Rods
---
Wagner Classic Flyrod Series~ Please click on all pics for large version.
Over the years we've had the privilege of examining, repairing and restoring classic cane rods. The rods that struck me the most are the early rods of Leonard and Ed Payne. Due to their rarity and age, finding a fishable example is increasingly difficult. In my mind, these are some of the greatest rods ever made, and I especially admire the intricately detailed metalwork.
It has been a long time dream and goal to build all of our own hardware. With a substantial investment in machinery, tooling and time in the shop, in 2011 we launched a new series of rods: the Wagner Classic. These rods feature our metalwork we build personally. These rods are our own humble tribute to the craftsmanship of yesteryear and feature:
· Bimetal, Waisted & Knurled Step-Down ferrules turned from solid 18% nickel silver bar stock with hand-formed Duronze welts.
· Medium flamed cane.
· Several attractive reel seat choices, including a bimetal pocketed full nickel silver and Duronze seat, cap and ring seat, and screw lock seat with proprietary round thread form.
· Immaculate cork grip fashioned from 3/8" wide cork rings.
· Full intermediate wraps and signature wrap.
· Each rod is unique. Rather than working from rigid specifications, each will incorporate creativity, personal consultation with the customer, and will reflect traditional manual machining- not mass production.
· Bulls eye style 18% nickel silver fitted ferrule plugs.
· Each Rod Is Produced From One Culm Of Bamboo - Tips Are Mirror Matched. Three Piece Rods, When Possible, Have Mirror matched Butt and Mid-Section.
· Complete with Two Tips, Cloth Bag and Polished Stainless Rod Case with solid brass knurled caps.
Wagner Classic with Full Nickel Silver and Duronze Classic Seat
Wagner Classic Cap and Ring Options
Left to Right: Nickel Silver Flat Top Bull's eye Cap, Domed NS Cap, Flat Top Duronze Cap and Ring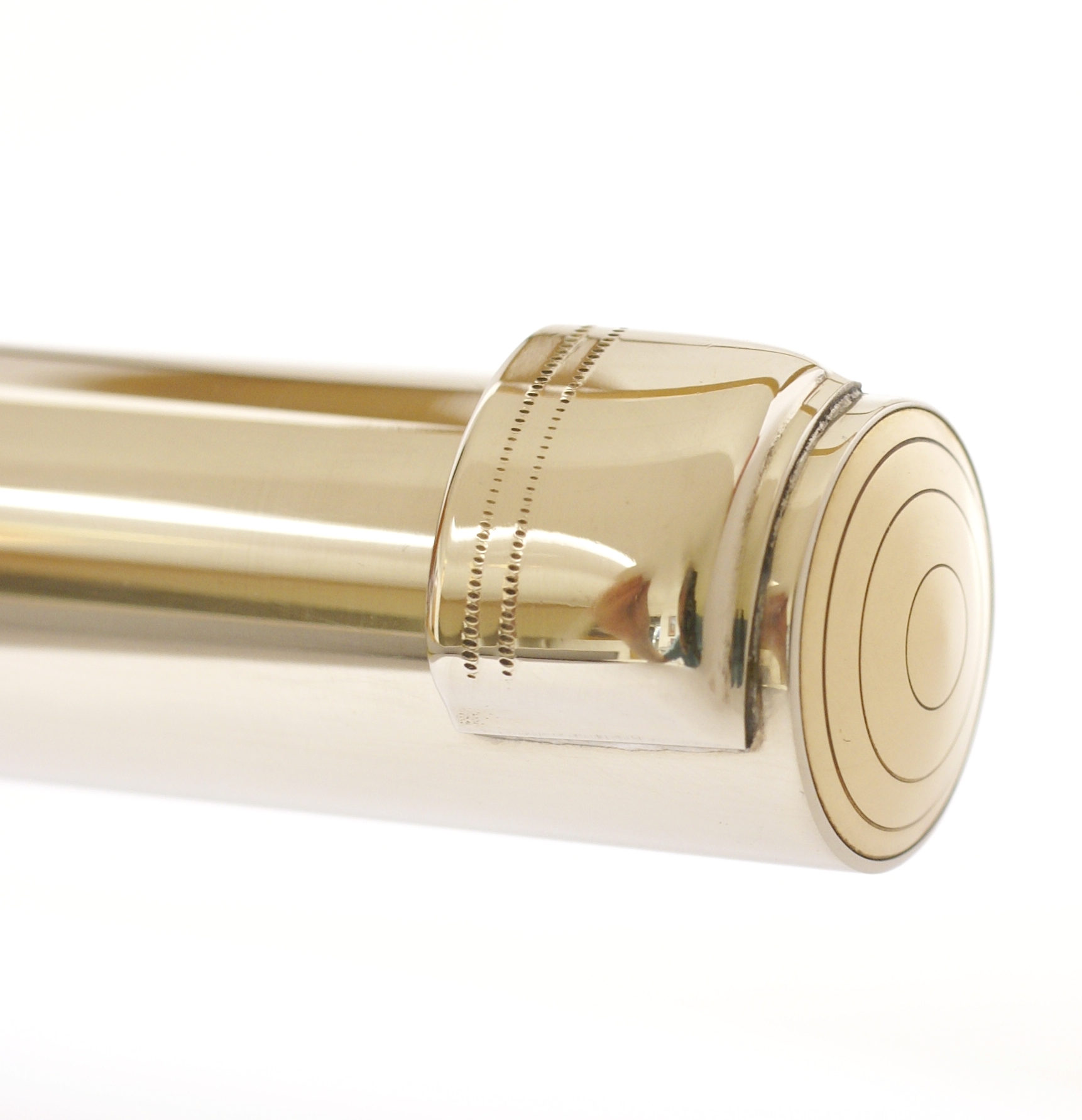 Wagner Classic Downlocking Screw Lock Seat in Nickel Silver and Duronze
More Classic Series pics here and here.
---
Current Pricing:
2 piece rods, complete $3800 plus shipping
3 piece rods, complete $3900 plus shipping
All Federal Excise Taxes paid.
2011, 2012, 2013, 2014, 2015, 2016, 2017, 2018, 2019, 2020, 2021 J.D. Wagner, Inc.
---