The Wagner Classic Series Rods
---
Hexed!
This is a one-off Classic Series rod we made for the Somerset show, and was an interesting learning project. It all started with seeing some photomicrographs of snow crystals. This led me to wonder why snow crystals are 6-sided (short answer: the shape of water molecules) and why the hexagonal shape is so ubiquitous in nature. (As well as in man-made items, like our beloved cane flyrods!) I began to wonder if I could incorporate a hexagonal theme into a rod and the first thing that came to mind was a butt cap design. So, out to the shop I went to learn how to do some metal shaping work.
Once I was happy with a design, I thought it would be cool to match some other parts. On this rod series we frequently use duronze for the ferrule welts, and I thought it would be cool to make matching hexagonal welts. One problem was finding hexagonal duronze stock in various sizes (impossible) which led to milling some up myself from round stock. Then to design a winding check to match the theme, and finally design and machine the ferrule plugs. I don't even want to think about the hours I have into this rod, but it's been a blast learning some new machining techniques.
This rod was finished out with gold color-preserved thread at the ferrules to harmonize with the duronze trim parts, guide wraps and intermediates in red to give it some pop, and an olive burl reel seat which I think plays very well with the color of the cane, silk and metals.
2012 Wagner Classic Series~ Hexed!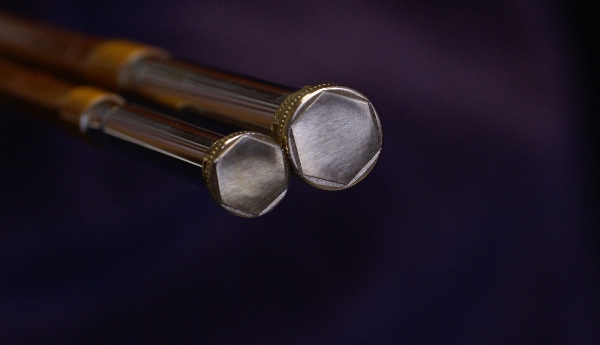 Hex Milled Ferrule Plugs
Hex Ferrule Welts in Duronze
Olive Burl Spacer
Hex Milled Duronze Butt Cap
Hex Milled Duronze Winding Check
It has been a long time dream and goal to build all of our own hardware. With a substantial investment in machinery, tooling and time in the shop, in 2011 we launched a new series of rods: the Wagner Classic. These rods feature our metalwork we build personally. These rods are our own humble tribute to the craftsmanship of yesteryear and feature:
· Bimetal, Waisted & Knurled Step-Down ferrules turned from solid 18% nickel silver bar stock with hand-formed Duronze welts.
· Several attractive reel seat choices, including a bimetal pocketed full nickel silver and Duronze seat, cap and ring seat, and screw lock seat with proprietary round thread form.
· Immaculate cork grip fashioned from 3/8" wide cork rings.
· Full intermediate wraps and signature wrap.
· Each rod is unique. Rather than working from rigid specifications, each will incorporate creativity, personal consultation with the customer, and will reflect traditional manual machining- not mass production.
· Bulls eye style 18% nickel silver fitted ferrule plugs.
· Each Rod Is Produced From One Culm Of Bamboo - Tips Are Mirror Matched. Three Piece Rods, When Possible, Have Mirror matched Butt and Mid-Section.
· Complete with Two Tips, Cloth Bag and Polished Stainless Rod Case with solid brass knurled caps.
---
Current Pricing:
2 piece rods, complete $3600 plus shipping
3 piece rods, complete $3700 plus shipping
All Federal Excise Taxes paid.
2012 , 2013 J.D. Wagner, Inc.
---