Cane Rodbuilding Ferrules
We are proud to offer Super Swiss ferrules by Classic Sporting Enterprises. These ferrules, made by Bailey Woods and his son-in-law Steve in their Vermont workshop, have become the benchmark for cane rodbuilders.
These ferrules are modeled after the famous Super-Z design and therefore provide the strongest possible union at the ferrule joint by minimizing the removal of power fibers. Available in either standard length for two-piece rods or in a shorter, truncated style for three-piece rods.
We also carry the traditional step-down style for replacement of vintage ferrules or for rodbuilders that want to achieve a classic look.
These ferrules are made from 18% hard drawn nickel silver and are polished to a high luster with a nicely formed welt. Available and designated by the inside diameter in 64's. The male ferrules are supplied slightly oversize and require lapping. We strongly recommend the use of a Grobet lapping file for final fitting.
CSE has the experience and expertise to make a superior product. Don't settle for second best!
Have a question about the differences between Super Z and Step down ferrules? Truncated vs Standard Length? How to choose the proper size and type? Read our ferrule primer here.
Need help with prepping, dressing and mounting ferrules? Check out our ferruling tutorial!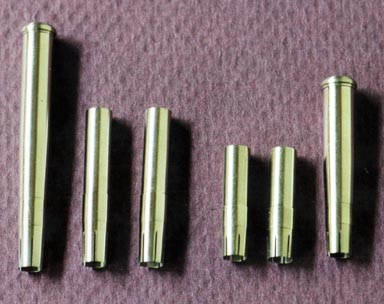 Standard & Truncated Ferrule Prices
2 males/ 1 male
8/64- 11/64 $69.30/ $53.40 + shipping
12/64- 15/64 $73.85/ $56.90 + shipping
16/64- 19/64 $78.40/ $60.20 + shipping
Step Down Ferrules
We also carry a stock of CSE Super SD ferrules! These ferrules are used to acheive a classic, low- profile look and also for restoration and repair. In my opinion, this type of ferrule took some unwarrented knocks in the Garrison book, and they are plenty strong for any rod. Men like Payne, Leonard and Thomas used them for their entire careers! They are also used extensively for quad rods as they broach a bit easier then Super-Z styles. Price is the same as noted above for the Super-Swiss style.
All ferrules are also available (by special request) unserrated for use in quad rods as this style is preferable for broaching purposes. Add $8 to the regular cost.
Lapping and fitting service: ferrules are available fit and ready to mount! We don't keep fitted ferrules in stock, but with ample lead time can provide them. Please allow 2-3 weeks lead time! Sizes 8-11/64th, $11/male. Sizes 12-15/64, $12/male. Sizes 16-21/64 $13/male.
Save!
Order more than $175 in ferrules and receive a 20% discount!
New!

The folks at CSE have a great new product that is sure to be appreciated: Aluminum ferrule plugs! Nicely sculpted and finished, these plugs are available in five sizes proportionate to each ferrule size. Each comes with its own cork plug that is finished by the customer to fit as desired. Cost is $12.60 each plus shipping.
New!
Ferruling Mandrils
The fastest, most accurate way to lap male ferrules! These High Speed Steel mandrils are used to chuck males ferrules for lapping prior to mounting on a rod. Precision ground, the complete set is 13 mandrils, each about 3" long, stepped in 64th increments from 8 through 20/64 so that you can lap any size ferrule within this range. Comes complete with an instruction sheet with some helpful ferruling hints! Cost is $59 + shipping.
Ferruling Accessories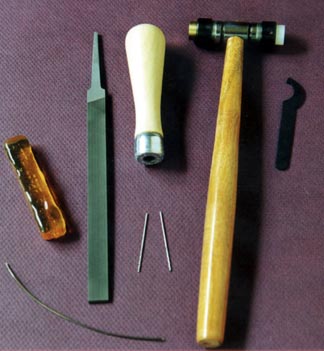 Sticky Jack Glue: This glue is a breeze to use for mounting ferrules: it's a one part liquid-no messy mixing like epoxy! Just lightly moisten the bamboo to be ferruled, smear a few drops on the rod section and inside the ferrule and mount as normal. This glue cures in about 16 hours and expands considerably as it does so. Stays flexible and the bond is easily broken with heat. Cost is $7 for a 4oz. bottle + shipping.
Ferrule Cement: This is one adhesive that's quickly becoming a favorite in our shop for ferruling and tip-top mounting. Contrary to what you may have read about older stick-type thermoplastic cements, this stuff stays flexible indefinitely and in all weather conditions. It offers the added bonus of setting almost immediately-unlike epoxies you can mount a ferrule or tip-top and continue your work right away! No mixing or noxious chemicals! It is also very easily reversible- just a little heat and the ferrule or tip-top can be removed! I always keep a stick of this in my vest for streamside emergencies, in the field it can even be used as a wader patch! Cost: $4.00 + shipping.
CSE Brass Pin Punch: An excellent tool for removing ferrule pins, it is high quality tool with a .031 diameter punch and two spares that are stored cleverly in the tool body. To use the tool, you simply give it a few light taps with the rodmaker's mallet to drive the pin through and out of the ferrule. Indespensible for restoration work! Cost is $23.10 + shipping. Replacement pins, set of 3 - $8.40 plus shipping. DISCONTINUED, but we do carry replacement pins!
#4 Nicholson Lapping Files: We have a discovered a limited number of new old stock vintage #4 lapping files. These are almost 3/4" wide, and do a remarkable job to quickly lap ferrules down to size. Cost: $45 plus shipping.
#6 Grobet Lapping File: Male ferrules are supplied oversized, allowing the builder to regulate the tightness of fit to their personal taste. Lapping can be done with fine sandpaper, but nothing will give more consistent results then a Grobet Lapping file. This 6" file is so fine that it barely possesses a 'grain' and is a necessity for filing ferrule pins flush with the surface of the ferrule. Cost: $57.50 + shipping.
#4 Grobet Lapping File: As above but with a slightly coarser cut. I use this file to lap the ferrules until they are fully seated, and then use the #6 to achieve the final fit. The coarser cut allows you to lap a male in just a minute or so- much faster then using sandpaper and with more consistent results. Cost: $38.00 + shipping.
#8 Grobet Lapping File: The finest cut made and useful in getting the ultimate finish, especially for filing pins flush on cap and ring reel seats. Cost is $62 + shipping.
File Brush: File brushes are used to clean the above lapping files. Wood handle with stainless steel bristles. A must-have item! Cost: $2.75 plus shipping.
Scruz-On File Handle: This handle is used with the above file. Hardwood handle with a special threaded insert. Can be used with any 6" file-just screw the handle onto the tang. One handle will therefor suffice for a number of files in your shop! Cost: $4.25 + shipping.
Rodmaker's Mallet: A great multipurpose shop tool. Hardwood handle with two faces: one of brass and the second a softer plastic. The faces are both reversible for long life...and if one ever wears out they are easily replaced using the spanner wrench.(included) A great tool for pinning ferrules. Cost: $21.00 + shipping.
Pinning Bits: The correct size for use with nickle silver pinning wire. Supplied in a set of two, these are TiN coated. Best used with a drill press. Simply use a center punch to make a minute dent where you want to drill, then drill completely through the ferrule. A wood block to support the rod section while drilling is recommended. Cost: 2 for $3.50+ shipping.
Pinning Wire: Did you ever wonder why virtually all vintage rods are pinned? It is a highly effective way to ensure that the ferrule stays where you intend: on the rod! In fact, many vintage rods have ferrules that were mounted with only a tight friction fit and a pin, and they've stayed on the rods since the day they were built. I would recommend pinning all ferrules, as well as keeping a supply of wire handy for restoration work. This is 18% nickle silver wire, .040 in diameter. Simply drill the pinning hole, snip a small length of wire and use the Rodmaker's Mallet to drive the pin through. Clip the excess as close to the ferrule as possible(a nail clipper works well), and use the Grobet Lapping File to file the pin flush with the surface of the ferrule. You're done in minutes, especially if you use the stick ferrule cement, and have lifetime security! Cost: $8 + shipping for a 10 foot length.
Dipping Plugs:Soft tapered plastic plugs used for bluing and varnishing to keep bluing solutions and varnish from entering the ferrule. Unlike cork plugs, these do not shed dust and are reusable over and over again....when the finish builds up on them you just peal it off. In color-coded sizes, the small is black and fits ferrule ID's from .125 through .250. The large red plugs fit ID's of .187 through .343. Cost for a set of 10 of each is $7.00 plus shipping.
Copyright 2000, 2001, 2002, 2003, 2004, 2005,2006, 2007, 2008, 2009, 2010, 2011, 2012, 2013, 2014, 2015 ,2016 ,2017, 2018, 2019, 2020 J.D. Wagner, Inc.