LDH Landing Nets
PLEASE NOTE: SINCE WE NO LONGER ATTEND FLYFISHING SHOWS, WHERE WE SOLD THE MAJORITY OF LLOYD'S WONDERFUL WORK, WE NO LONGER STOCK THESE NETS. WE ENCOURAGE YOU TO ORDER DIRECTLY FROM HIM AT HIS WEBSITE!
We are proud to be agents for the outstanding netcraft of Lloyd Hautajarvi. After receiving a beautiful bird's eye maple net as a gift from a client, we just had to offer them to others!
LDH nets differ from other nets because Lloyd approaches the craft as an artist. He puts in much effort scouting the USA for only the finest figured woods and with an artist's eye carefully lays out his patterns to make the most of the beautiful grain.
The attractively shaped three-ply hoop can be made with either harmonizing or contrasting woods, and his nets come in a variety of sizes from the diminutive Brook Trout Model through the extra-large Steelhead models. The workmanship is impeccable, from the careful joining at all seams to the flawless satin varnish finish that just begs to be touched and admired. The bag is a knotless nylon-easy on the fish and very durable, and each net comes with a brass attaching ring. All nets are signed by Lloyd.
LDH Nets!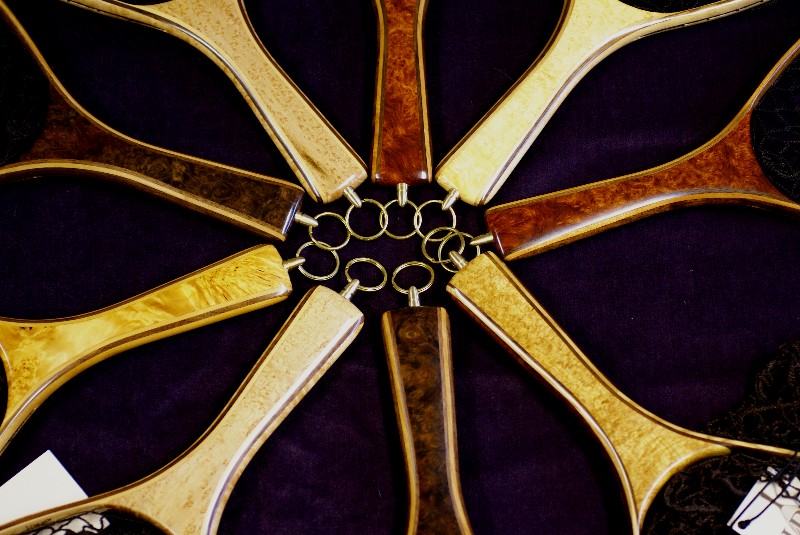 Copyright 2001, 2002, 2003, 2004, 2005, 2006, 2007, 2008, 2009, 2010, 2011, 2012 J.D. Wagner, Inc.
Table Copyright 2001, 2002, 2003, 2004, 2005, 2006, 2007, 2008, 2009, 2010, 201, 2012 LDH Landing Nets