The Joe Tinko Collection: Cane Rods
I have been honored to be tasked with finding new homes for my friend Joe Tinko's fly tackle. I met Joe in 2004 through a mutual friend, Mike Laskowski, who owned Oil Creek Outfitters. At the time Joe was a very successful and brilliant attorney practicing in Western Pennsylvania. I was thrilled when Joe retired and settled in Coburn along the banks of Penns Creek. I was spending more and more fishing time in the area and it was always good to see him, and still look forward to my next visit.
Joe has an imposing intellect. He approaches learning with a voracious appetite, consuming and retaining all information he can gather with the goal of Mastering the endeavor at hand. Such was his approach to fly fishing: learn the history of the sport, the tackle and techniques, Master it. In retirement, he worked as a guide and sales assistant at the local flyshop, The Feathered Hook, where countless hours were spent on the front porch with owner Jonas Price and in-house rodmaker Jim Downes and other Friends of The Hook. What a time we had, it was our own Golden Age!
Joe's meticulous nature is reflected in his personal notes of his tackle, which are here reproduced for each item. They provide a provenance and complete description. My notes concerning condition and description are provided separately and marked with an asterisk *. Every item listed was lovingly acquired and cared for and is in excellent, near mint or mint, unused condition unless noted otherwise.
If I may in any way assist you with a purchasing decision such as additional photographs or description, please don't hesitate to contact us! All vintage tackle is sold with our 3 day inspection policy.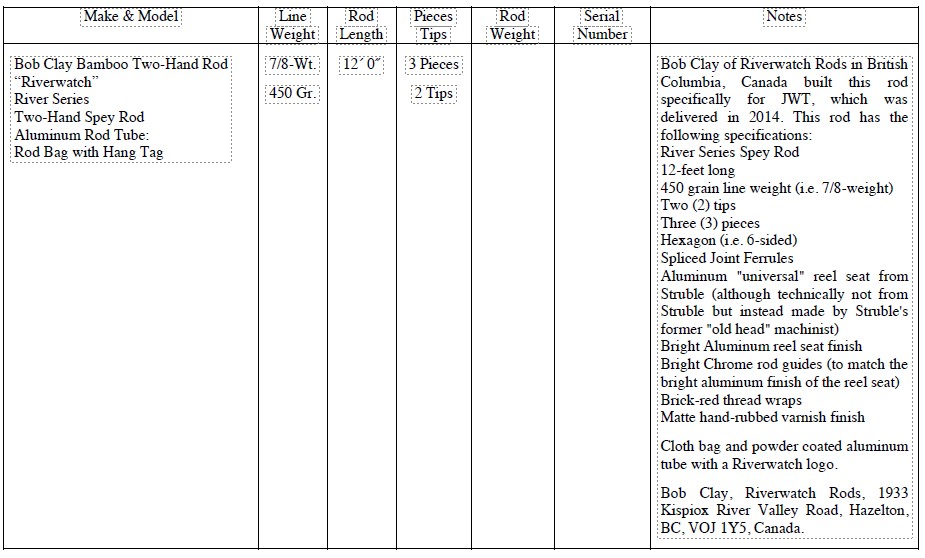 *Mint, unused, as-delivered. Mr. Clay is not accepting new orders at this time, so jump at the chance to own a masterpiece! Gorgeous and a stellar example of the most advanced state of bamboo Spey rodmaking.$2,950 plus shipping. (Firm) SOLD!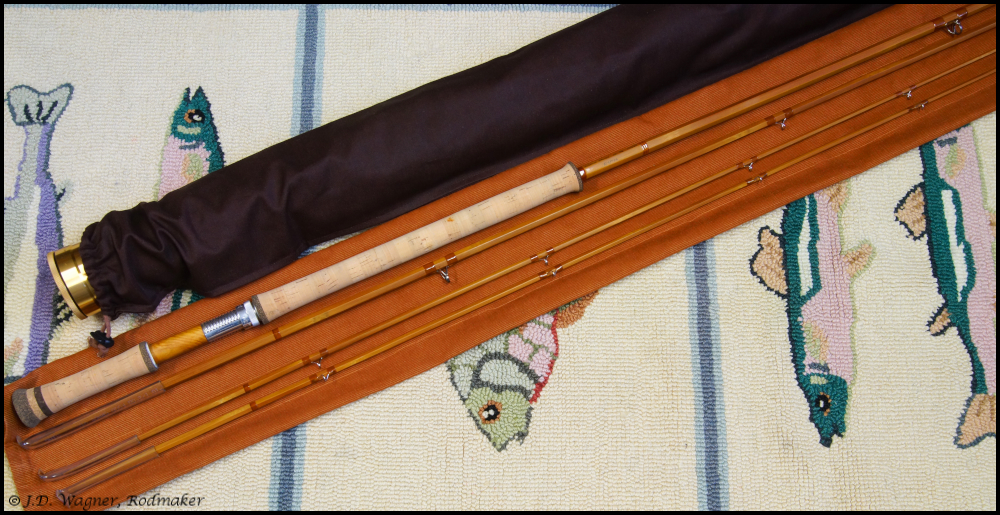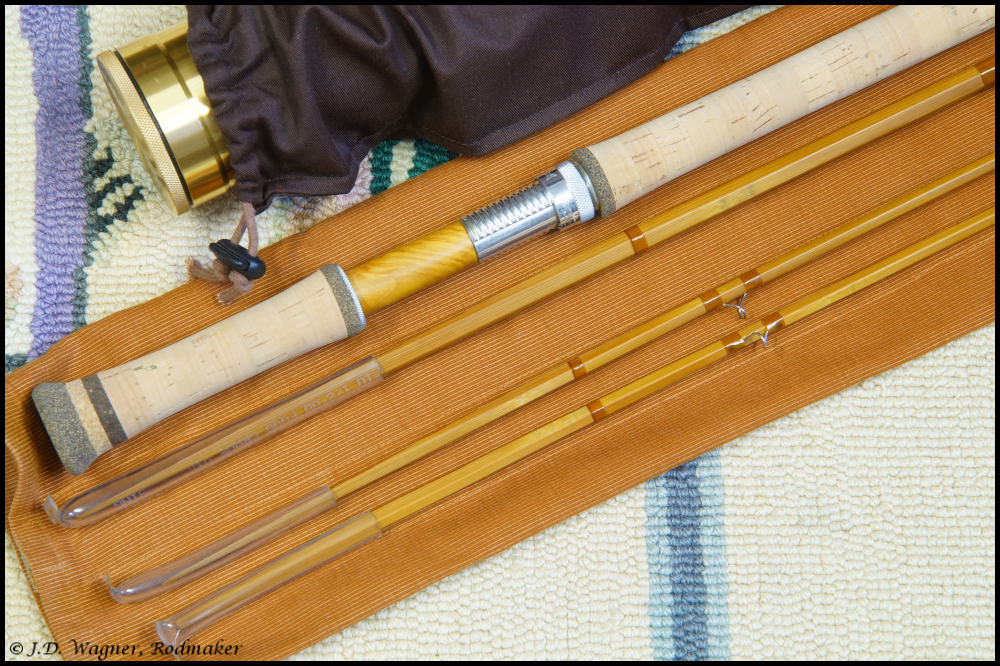 *Mint, Unused. One-of-a kind, custom made, plenty of backbone and could be used for any type of fishing involving large salmonids, bass, pike, etc. Made with two tips, one best suited for a 7 wt line, the other an 8 wt line. Mr. Carpenter is an icon of the Catskill rodmaking genera, having worked at both Payne and Leonard prior to becoming an independent rodmaker. Now retired, a Carpenter rod is instantly collectible and a mint, as-new rod could either be kept as-is in a collection (if one could resist using it!) or fished as intended. $3,495 plus shipping. SOLD!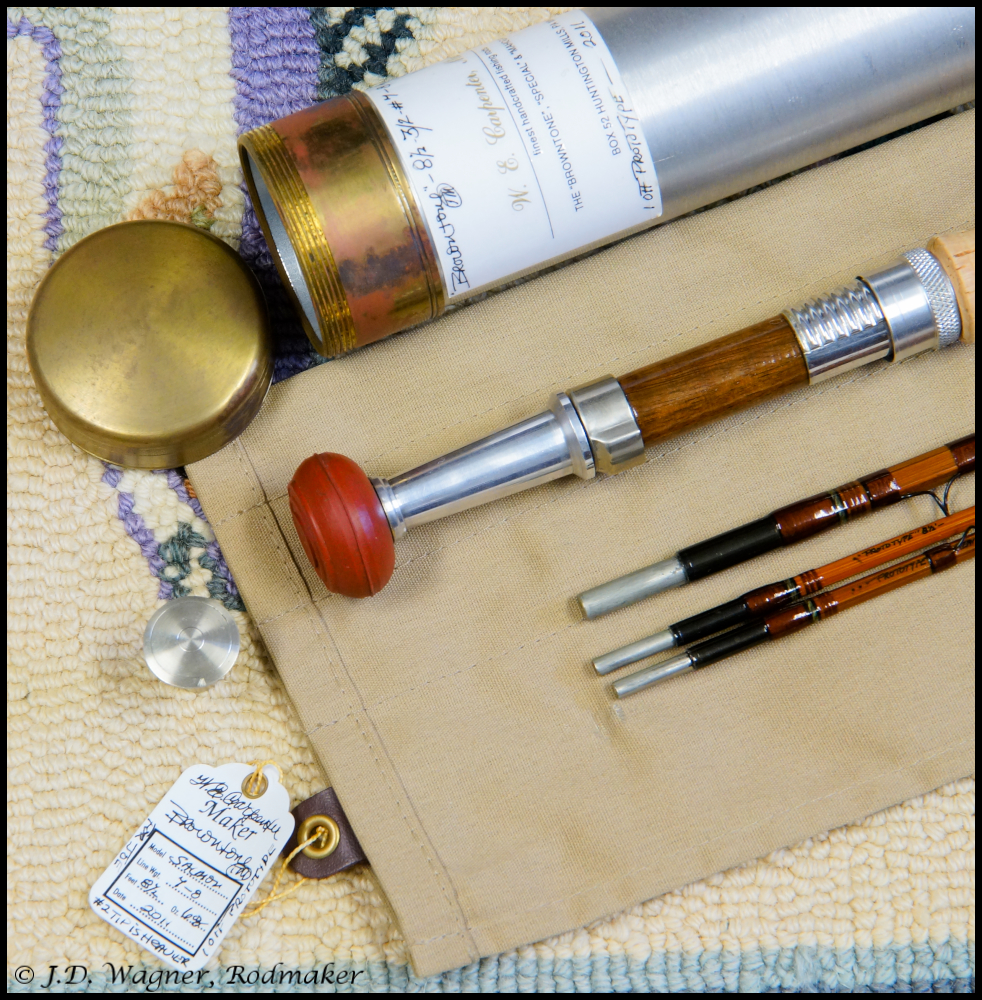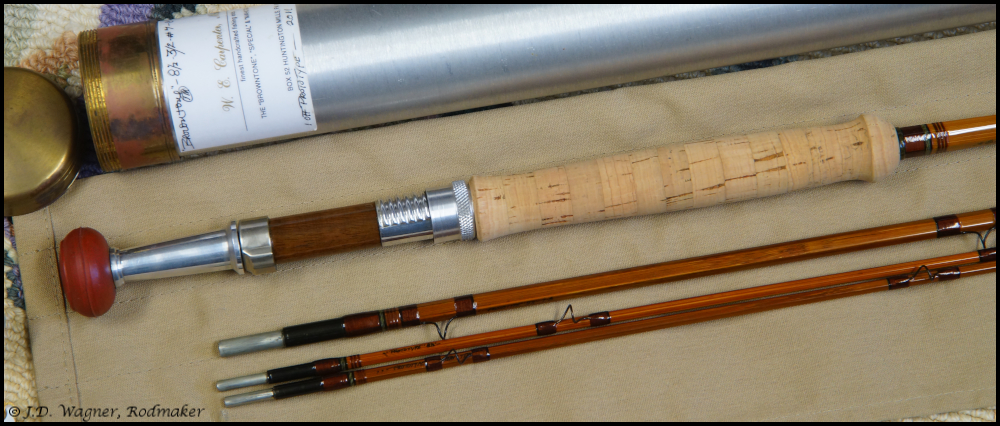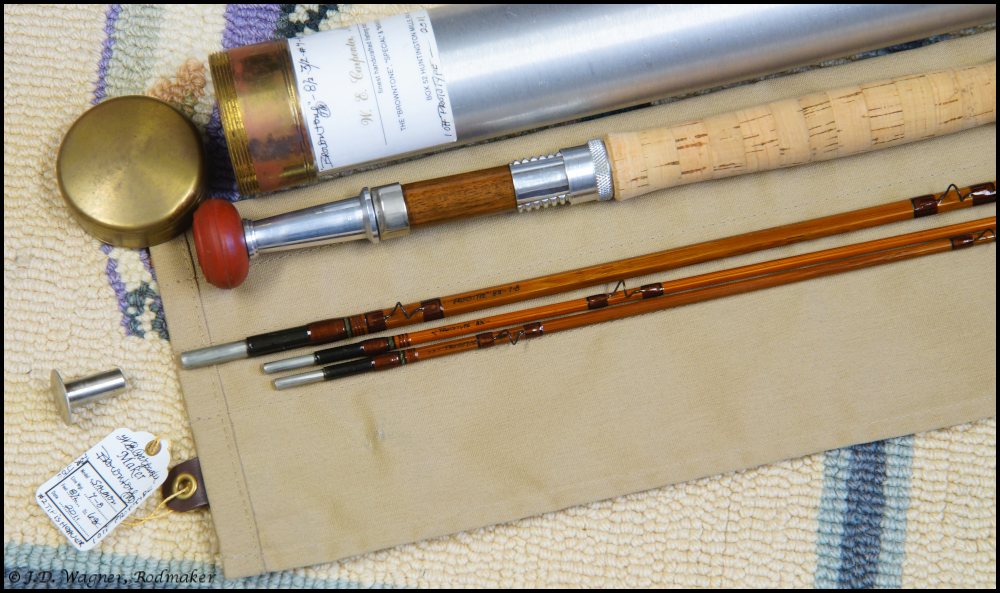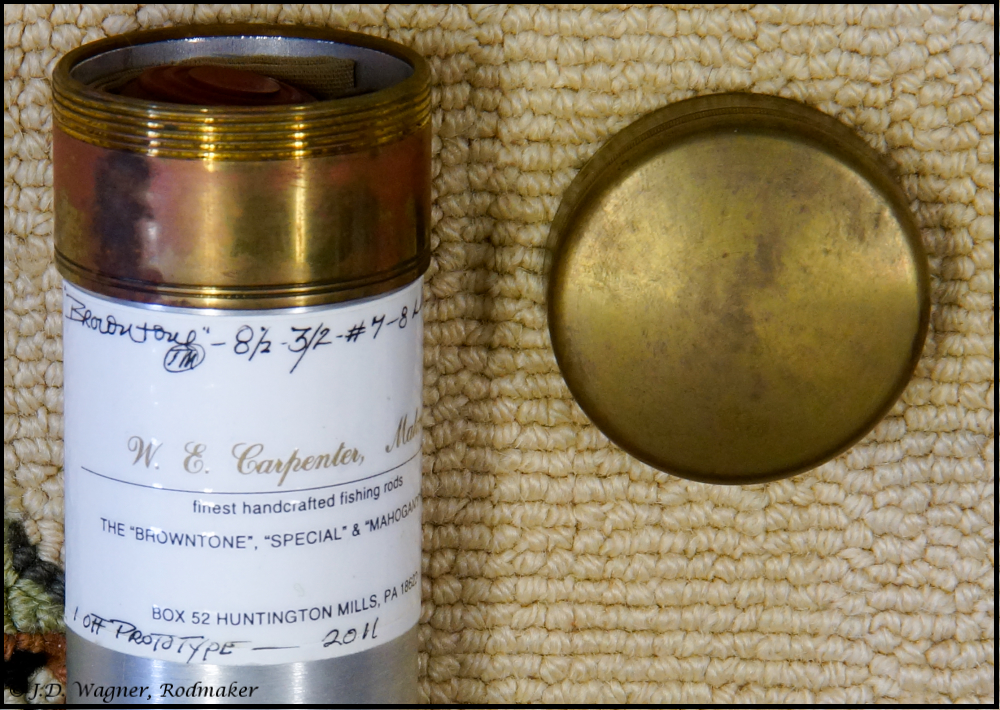 *Mint, unused, as delivered. A handwritten and signed letter written by Walt Carpenter attesting to this rod's provenance is attached to the tube. Ferrules bear the original Super Z trademark stamp. $2,150 plus shipping. SOLD!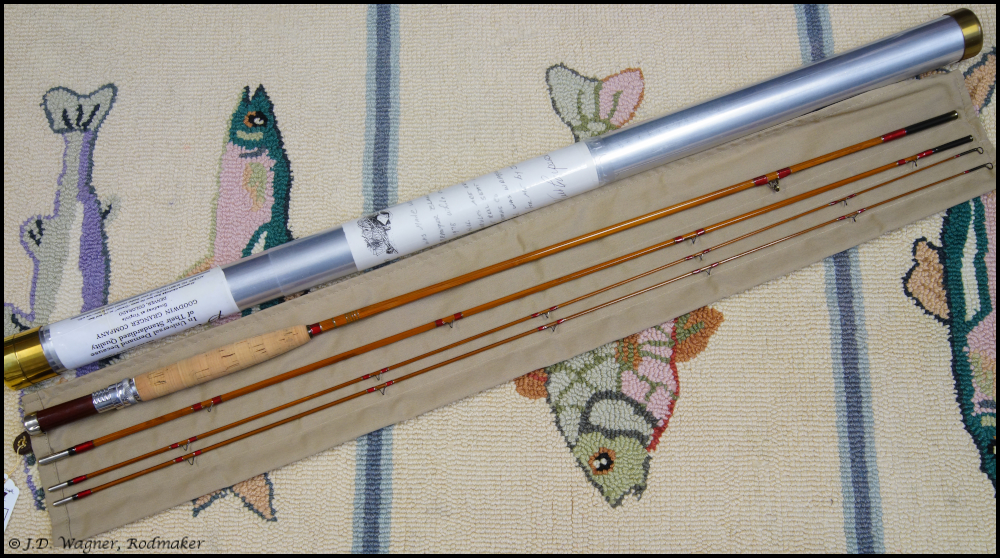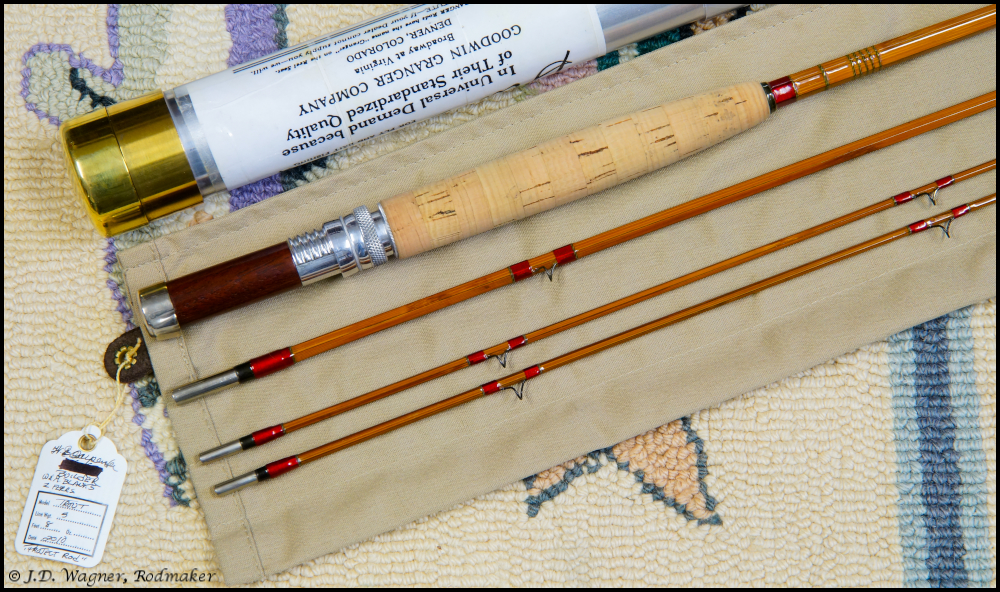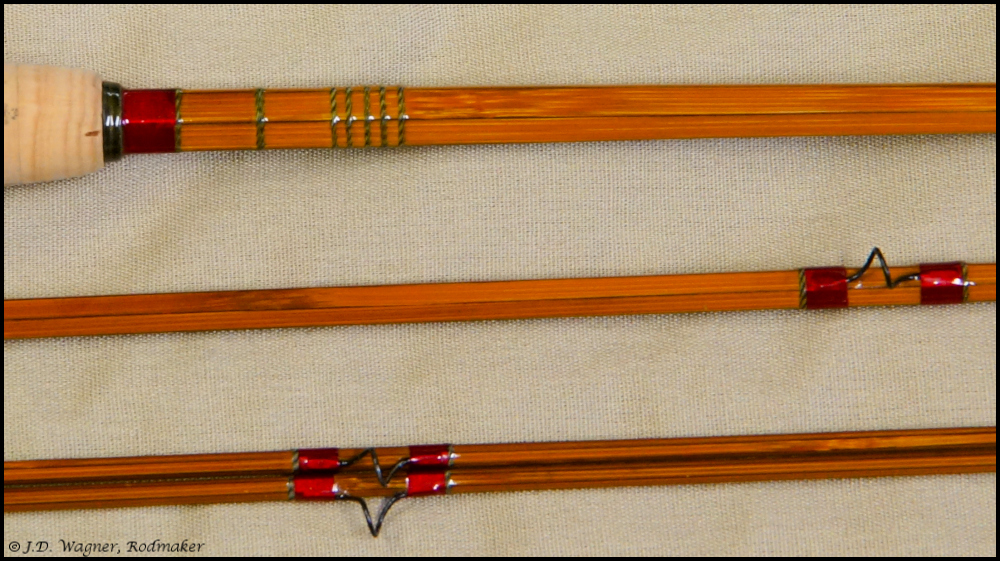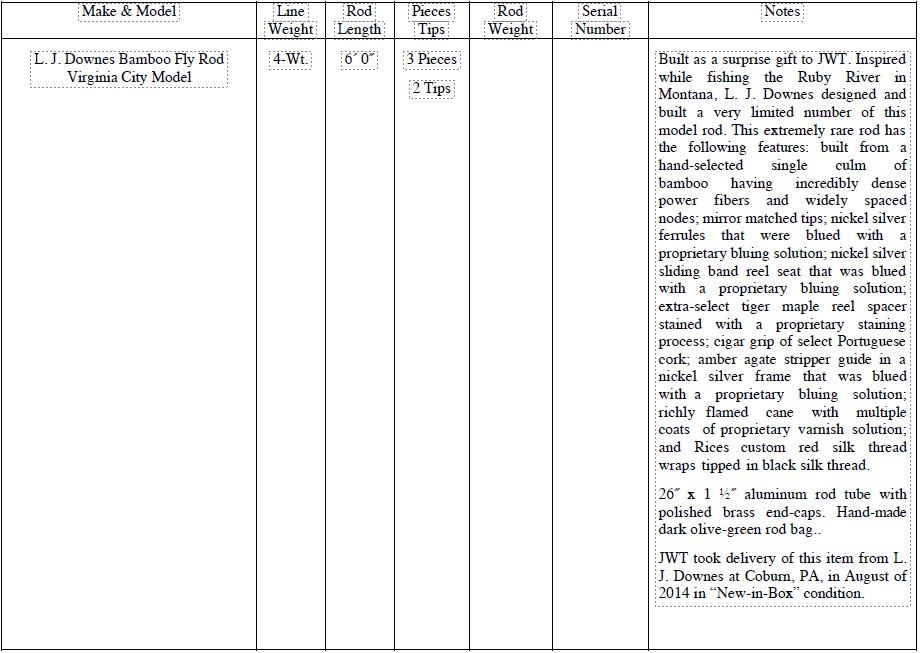 *Crisp yet delicate, 5 1/2" cigar grip, black guides, D/L cap and ring with stamped logo, satin hand-rubbed finish, ferrules snug. Mint, unused and well below Mr. Downes' current list price. $1,300 plus shipping. SOLD!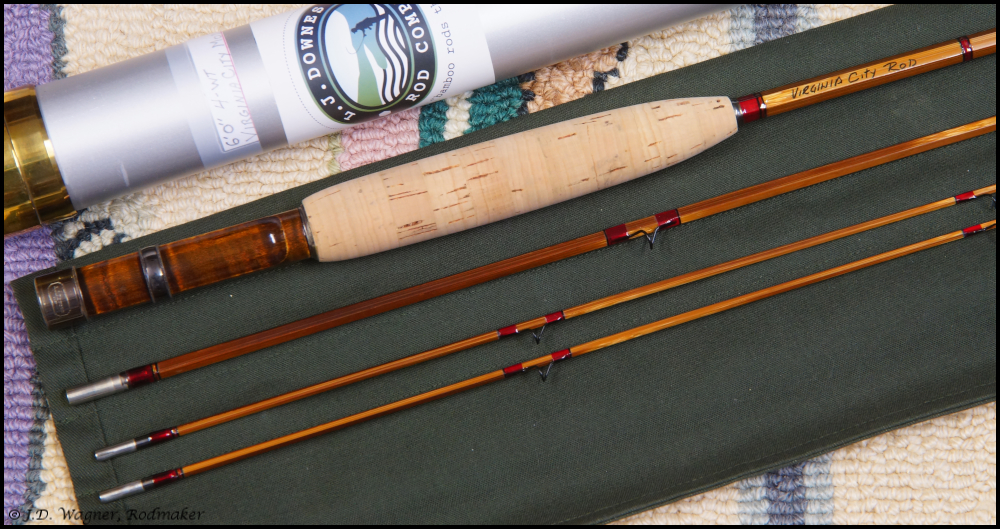 *R.L. Nunley 6'6" 2p 1t for DT5 line. Crisp action, bright NS step down ferrules, NS C/R seat engraved with maker's name, figured maple spacer, 6" cigar grip made from 1/4" cork rings, C/P red wraps tipped black over bronze Snake brand guides and Mildrum stripper, very attractive tortoise shell flaming.
Very slight signs of use but tight and as straight as when made. Light grip soiling and minor signs of use. Soft felt bag and aluminum case. $795
*Gently swelled butt, man-sized 6" cigar grip, mirror matched tips, step down ferrules, Mint, unfished and well below Mr. Downes' current list price! $1,300 plus shipping.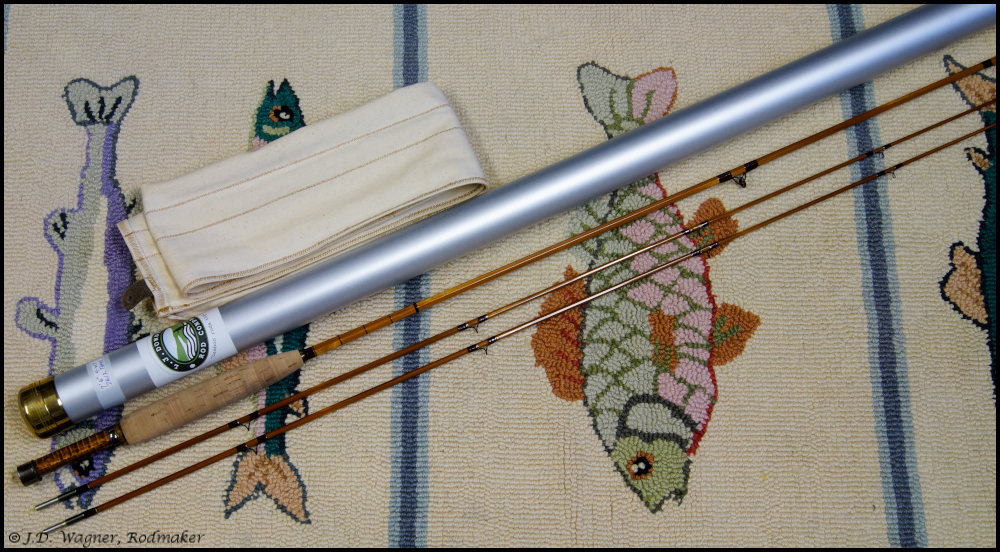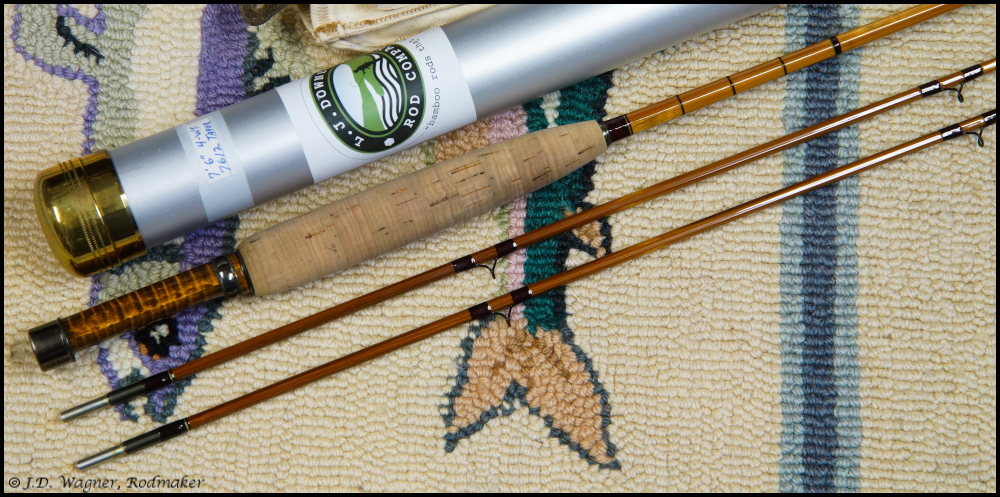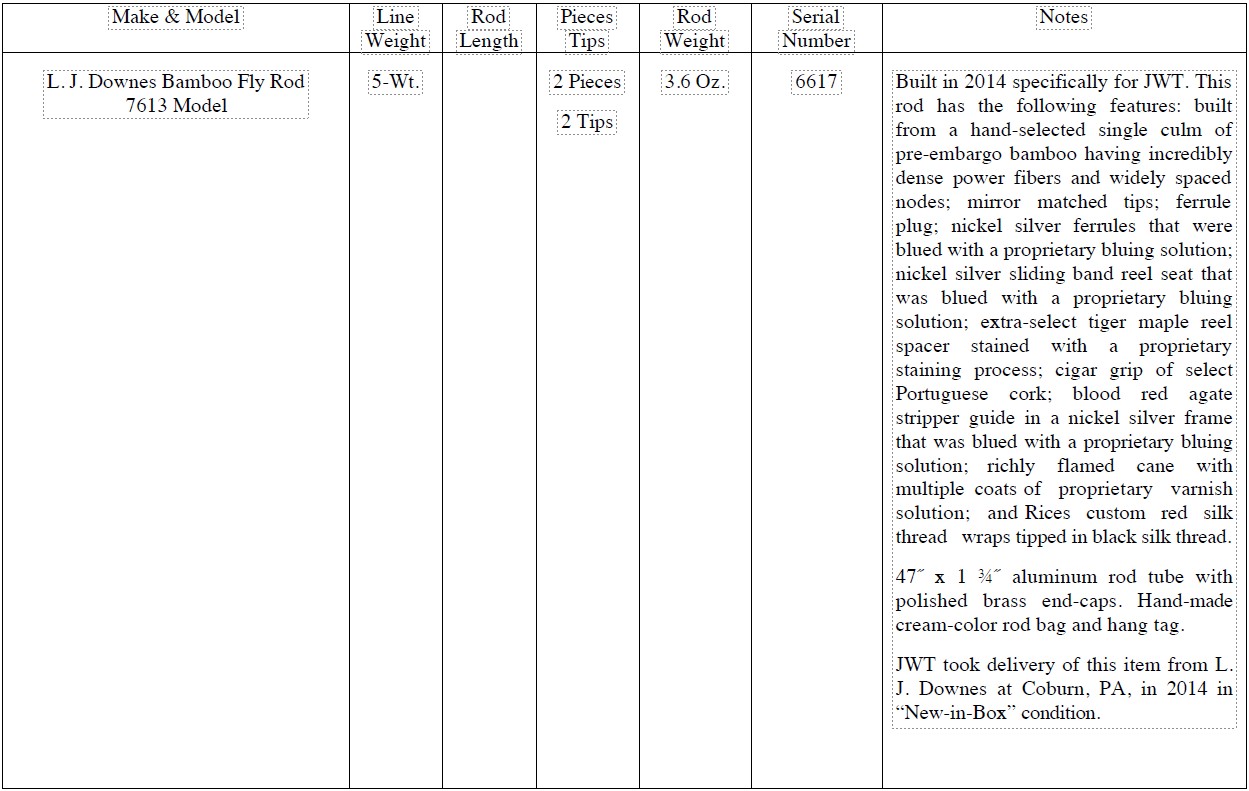 *Mirror matched tips, 3x3 nodes, gently swelled butt, black guides, 6"cigar grip, ferrules snug. Mint, unfished and well below Mr. Downes' current list price! $1,300 plus shipping. SOLD!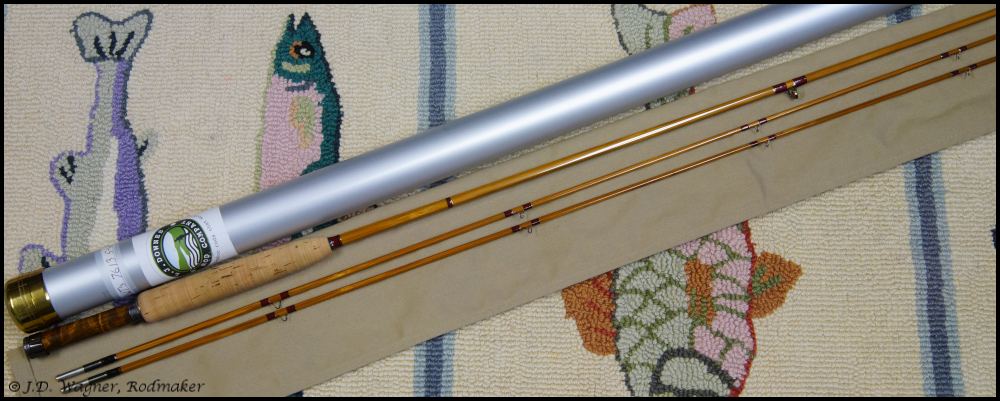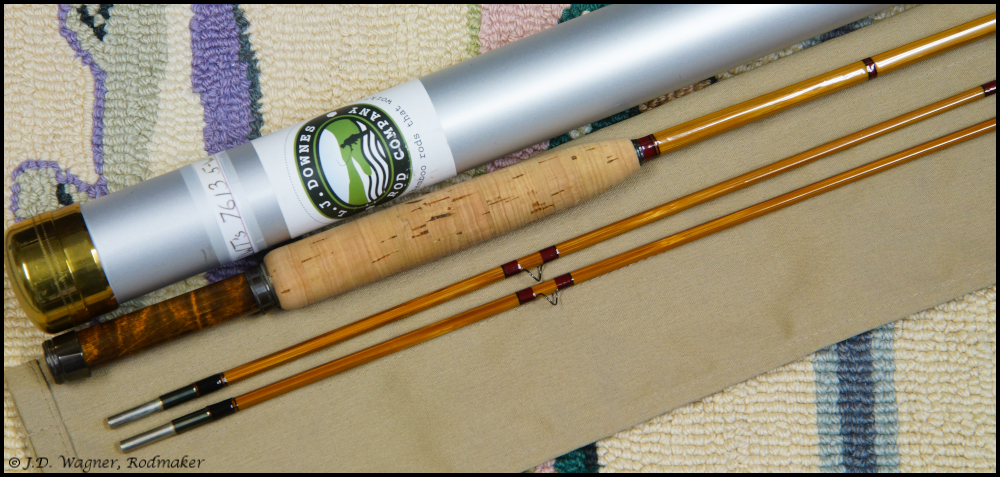 *A very powerful rod, beautifully squared ferrules, some bluing loss on cap and ring, 6" cigar grip squared at front, ferrules snug, grip soiling. A great rod for fishing Green Drakes/Slate Drakes/Hexes or Hopper/Dropper combo rigs.$1,300 plus shipping. SOLD!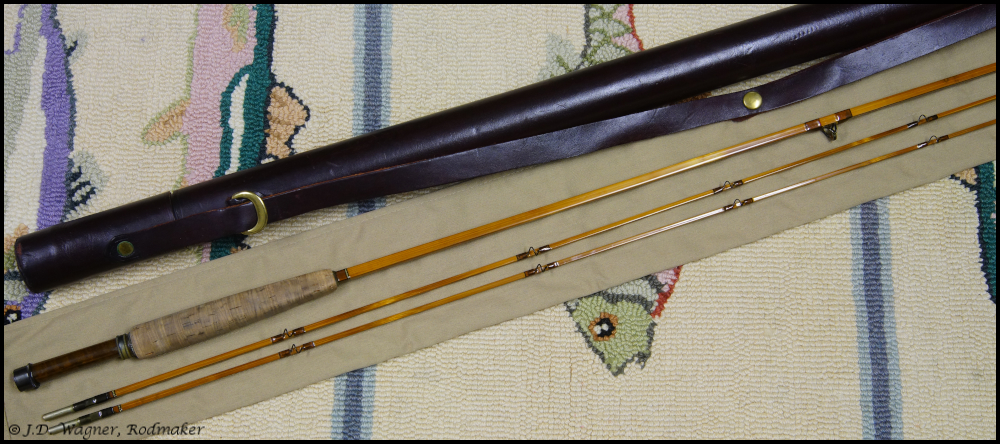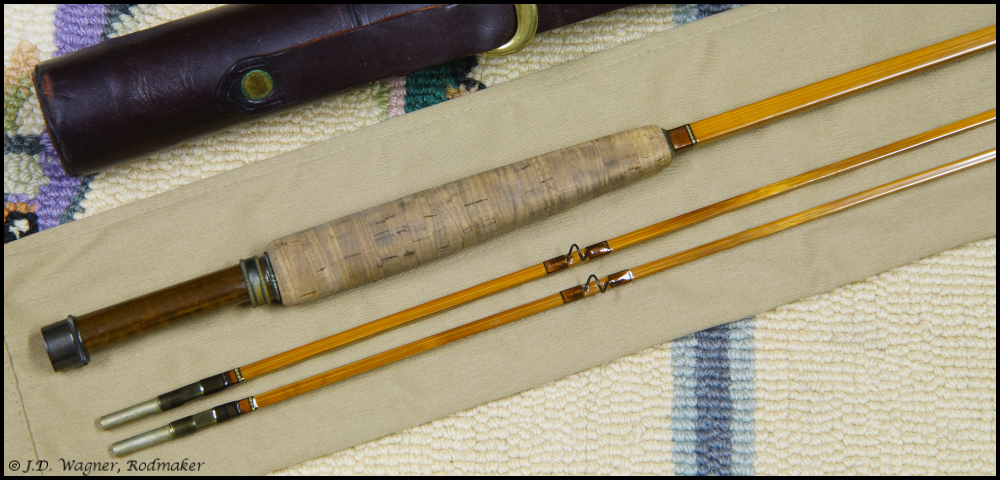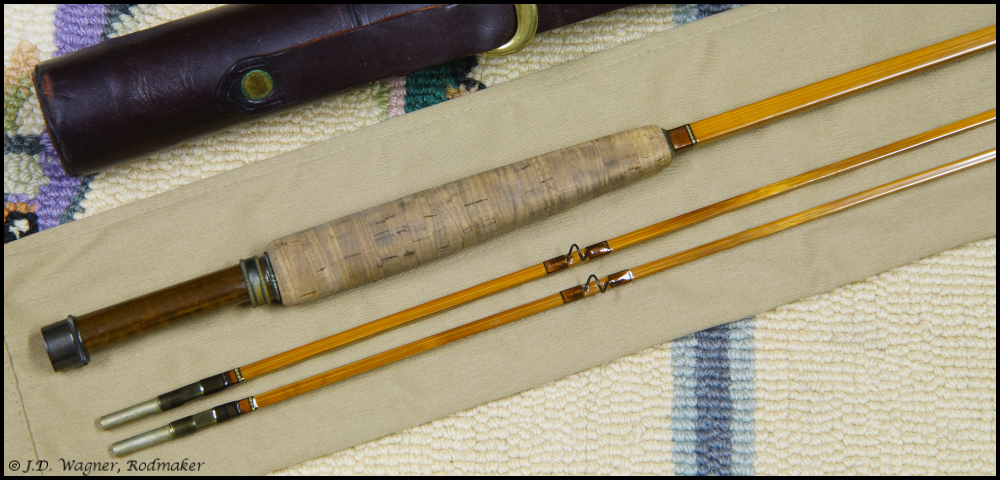 *Blond cane, swelled butt, agate stripper in NS frame, hexagonal NS winding check, gold tipped claret CP wraps, bright step down ferrules, chrome guides, man-sized 5 1/2" cigar grip, varnish good but some wraps a bit dry but fishable, ferrules snug and tight, grip soiling. $1,200 plus shipping.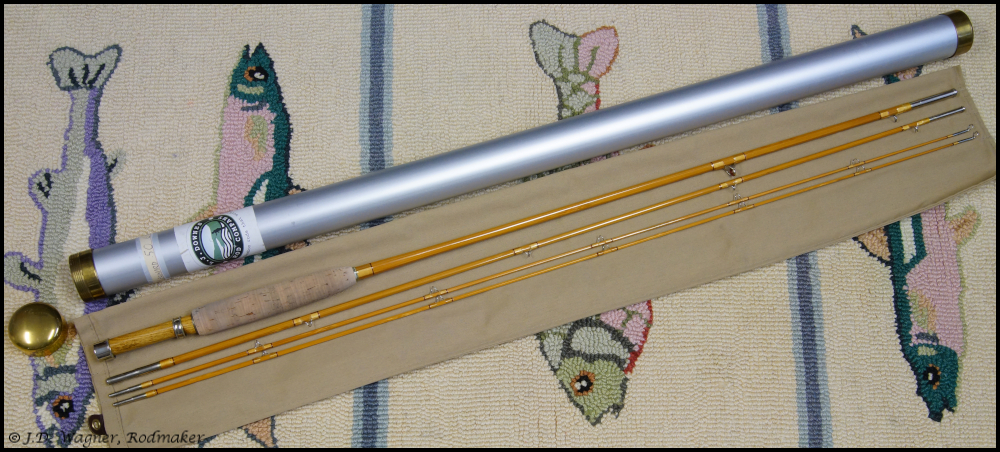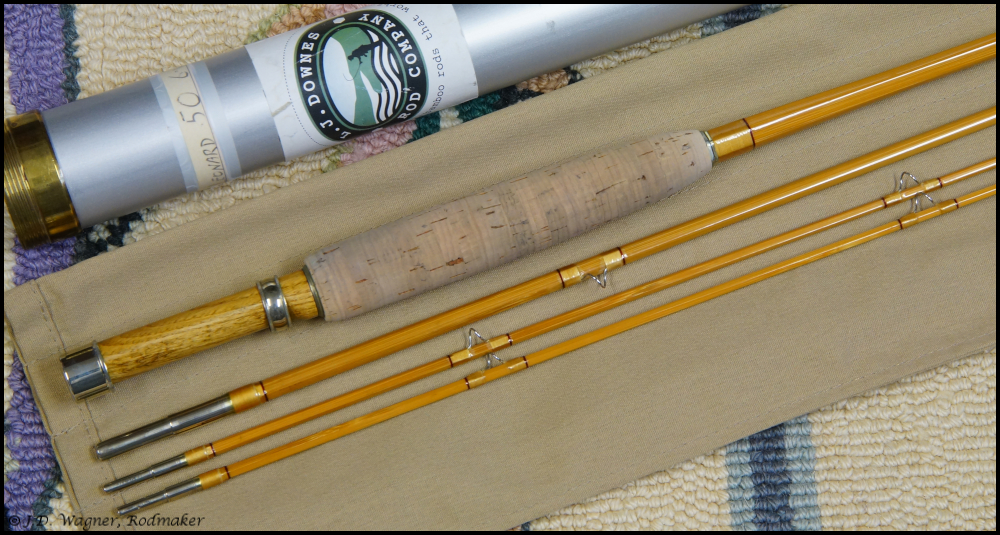 *Downes Leonard 50DF: 8' 2p. 2t. for DT6. Beautifully flamed cane, agate stripper, D/L oxidized screw lock with curly maple spacer, chestnut wraps tipped black, mirror matched tips. Near mint and a Classic taper! $1,300 plus shipping.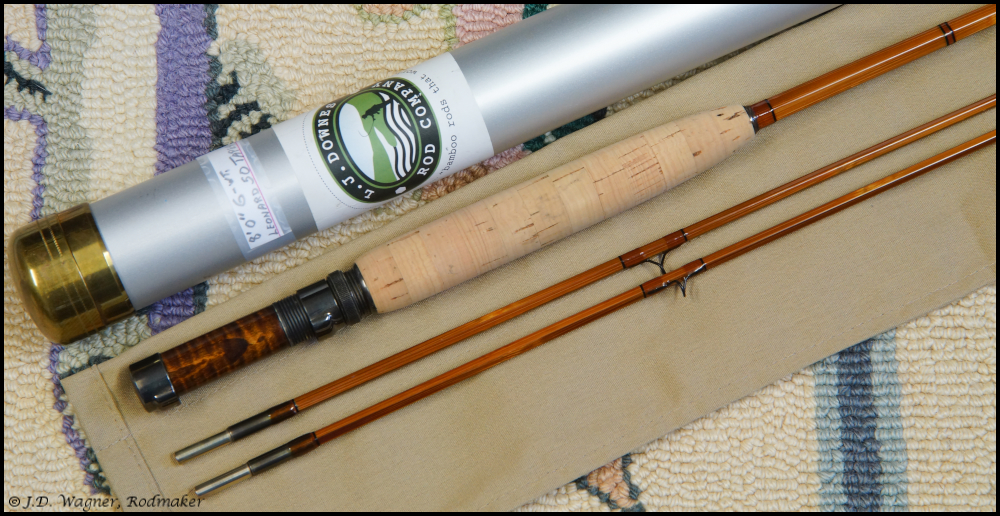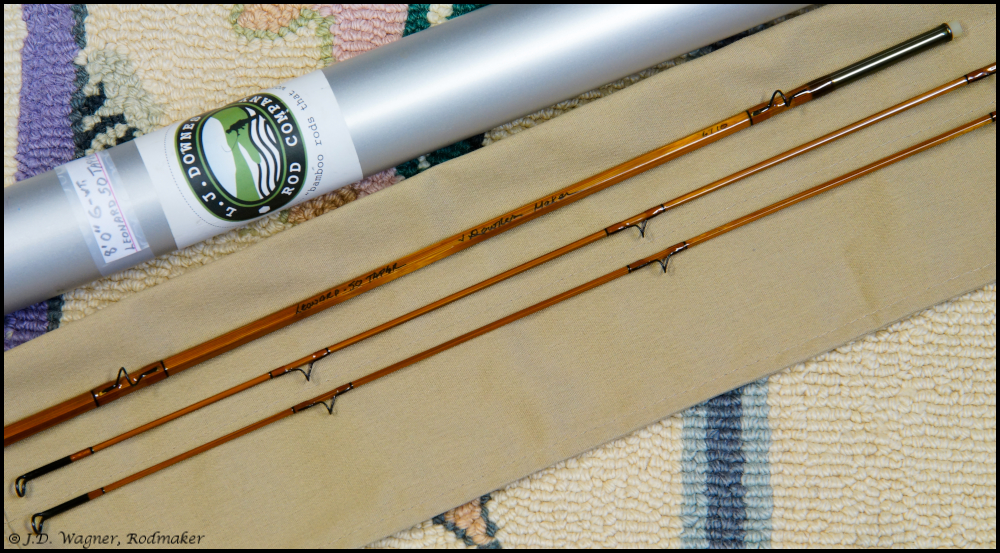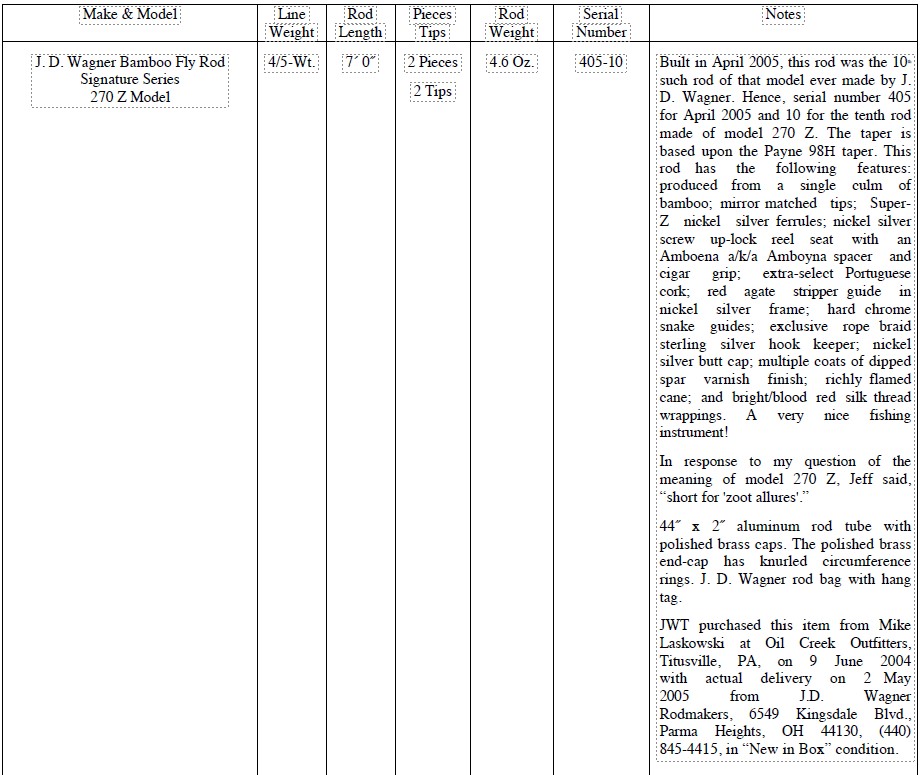 *Owner's initials engraved on Butt cap, dead straight, one minute (<1mm)mar to varnish on one tip, 6" cigar grip, Venerri NS U/L screw lock, mirror matched tips, 3x3 node spacing, minor grip soiling, excellent overall. $1,795 plus shipping.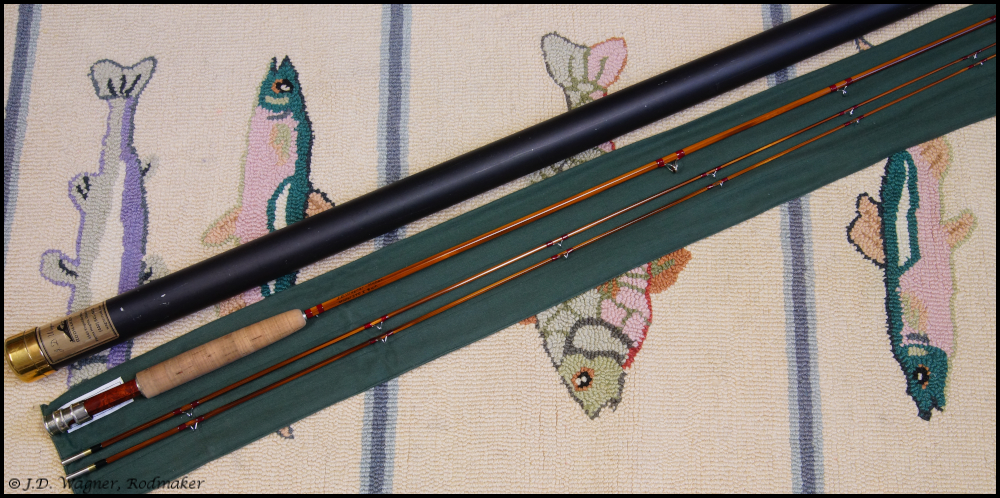 *Mint, unused. Components made in house. Waisted step down ferrules, full intermediates with gold tipping, engraved butt cap featuring Rose and Scroll engraving and leaping trout, cap embossed with my roll stamp, breathtaking varnished claro walnut spacer, medium action for either a DT4 or 5 line, very smooth. Ferrule plug a replacement. $3,100 plus shipping. SOLD!