Photo Gallery II.
---
This page is dedicated to my grandfather Frank Lumanick and his brother Stacy. My grandfather was a coal miner and farmer from Pennsylvania. In those days life was tough, and the taking of fish and game was more then a matter of sport as it represented food on the table for his wife and daughters.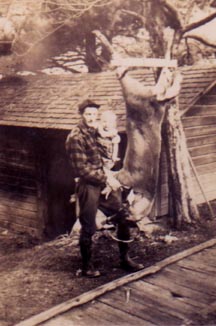 Gramps, My Mom and a nice deer...back on PA Homestead
In the early1950's grandpa moved his family to Cleveland in search of better opportunities for himself and his family. Still an outdoorsman, he missed the hunting and fishing available in Pennsylvania and purchased a small cabin in the Allegheny National Forest where he could get away with his brother for weekend recreation.
Grandpa would get out of work on a Friday afternoon, bolt over to our home, pick up his grandkids and off we'd go to the camp to fish! My grandpa might not be the most patient of men, so you can imagine my gratitude to him for taking the time and effort to take us along on these outings and teach us the ways of fishing and the outdoors. Anyone that has attempted to teach fishing to a kid, or several kids at once, knows what I'm talking about.
We'd stop at Shines on east 55th. Street in Cleveland, or drop by the store in Tionesta, P.A. for bait. We'd pick up some worms, and he'd let us kids drain the water from the just-filled minnow bucket. The minnows were put into a plastic bag and a generous amount of salt was added. We'd shake the bag up to salt the minnows. Man, how those P.A. brook trout loved those salted minnows! The worms went into an Old Pal bait can, packed with moist moss.
So, long before I ever picked up a fly rod I fished with bait and plugs, and is one of the reason we offer split cane spinning and baitcasting rods without apology. The photos depict a recently delivered custom baitcasting rod.
We'd spend the weekends in P.A. running from stream to stream. One of my favorites was Tubb's Run, a small brook trout stream that ran though deep green woods. The water stayed very cold and clear, with moss covered trees and rocks. You'd fish by sneaking up to the water's edge, and sling out a salted minnow. Brook trout would dart out from the cover of the banks to grab the bait. It was so quiet, and you had to be so careful not to spook the fish. When the speckled beauties darted out for the bait it felt like your heart would explode! You pull 'em up fast, and more times then not they were just greedily mouthing the bait...they'd let go and fall off if you weren't quick. Is there anything more beautiful then a native brookie?
We also would fish the other local streams for trout and bass: the Brokenstraw, Allegheny, Tionesta, Oil, Pitthole, Salmon. In the evenings we'd stop by Cougar Bob's tavern in Kelletville where Grandpa could enjoy a much-deserved cold one(or two) after hauling us around all day.
We'd head back to camp and eat what we had caught that day. I'm not a big fish-eater myself, and haven't taken a trout in years, but I don't begrudge anyone that does so legally. (Many fly fishers aren't aware that catch and release fishing was pioneered by tournament bass fishermen.) The evenings were spent reading the dog-eared and mildew-stained copies of Outdoor Life, Pennsylvania Fish and Game, or the racy Argossy. Grandpa and Stacy would relax and drink boilermakers (Budweiser and cheap whisky) and talk about the day's fishing or exploits long past. I'd nonchalantly walk into Gramp's bedroom. On the wall was a calander of sorts- tame by today's standards-that featured a young buxom woman. I'd lift the celluloid overlay for a quick thrill to see the topless woman underneath. Wow! Some nights we'd spotlight for deer, or head down to the Allegheny or the Nebraska bridge over Tionesta Creek and fish by lantern. I can remember the hiss of that lantern, the fragility of the mantel, the smell of white gas, the sight of the bugs as they danced in the light.
In the morning I'd awake early to the sight of one of grandpa's mounted deer hanging above the couch I prefered to sleep on. At first light, we'd do it all over again.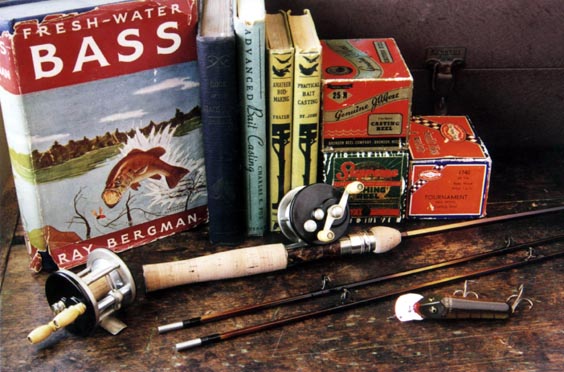 I first picked up a fly rod as a young teenager. I think that Grandpa and Uncle Stacy were worried that I'd become a snooty elitist like those tweed-wearing gents in Fly Fisherman. They'd tease me and suggest that I'd have better luck using a fly tipped with a maggot. Horrors. My first efforts were attempted with a bamboo Montague combination spin-fly rod and a cheap level line from K-Mart. This rod could be charitably described as a club, and age has not improved it. My father still has the rod, and a few years ago I tried it again. It was just as bad as I remembered. Later, I graduated to a lime-green Garcia glass rod with a matching green Cortland reel. I seem to recall that I cast a fine line with it, but memories can sometimes play tricks on us.
One taste I developed from my Uncle Stacy was a love of fishing tackle. Stacy was a bachelor, and as a result, had one hell of a lot of gear. Loading up the car was like preparing for an extended expedition. I remember that he always kept a supply of water, K-rations, a shovel, flares, snakebite kit, Coleman stove, gas, etc. at the ready for any catastrophe that might arise between Cleveland and western P.A. Then there were the rods, reels, nets, baitcans, tackle boxes, seines, etc. When fully loaded, the fishmobile's back tires appeared to be half-inflated. So, whenever I open a tackle box the smell alone brings back all the memories of these men and our trips. Can you remember what a jar of salmon eggs smells like? The skirt of a Hula-Popper? Rubber worms? Citronella?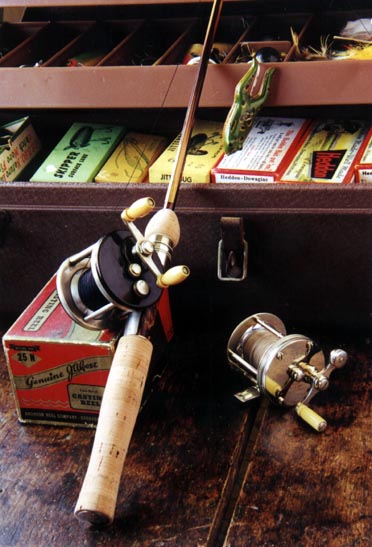 So here we are, years later, making these silly fishpoles. Doing something that I never dreamed I'd be doing as a kid. The toys have got nicer, and life may be more complicated then it was back then. Our good friend George McCabe(these are his beautiful photos) told us recently that a Pumpkinseed can fetch as much as $100. Lord knows how many of Grandpa's or Stacy's baits we threw up into trees or we snagged under rocks in unreachable places! But without those trips, and the gift of the love of fishing by these men, I'm certain that I wouldn't be doing this today.
Thanks guys!
Copyright 2000, 2001, 2002, 2003, 2004 J.D. Wagner, Inc.
Bamboo Garden Copyright Kim Robertson