J.D. Wagner Cane Rod Customer Gallery
We are always thrilled to hear from our customers about using our rods and tools. If you happen to have your camera with you on the stream, please submit a picture of yourself and your catch.
---
Customer Steve Simco sent us this pic of a nice Letort brown he took on his new custom Patriot rod. I think it's so cool to think one of our rods was on that hallowed water..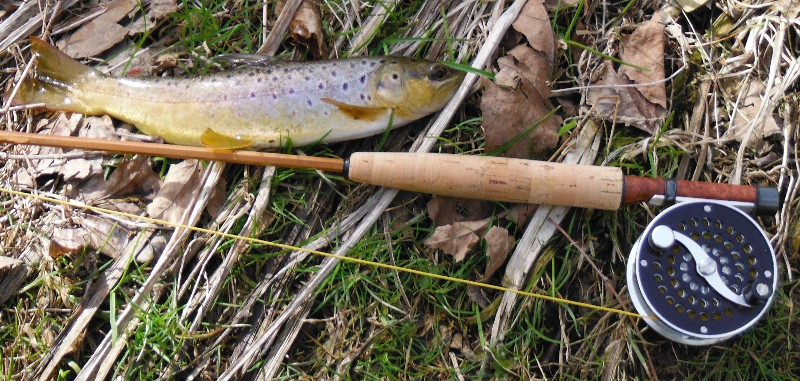 ---
Jeff,
I just got back and saw that a box had been delivered.
And it is just plain SICK! You've outdone your obsessive compulsive (it takes one to know one) bad-ass self on this one. The spacer is psyco-fuggin-delic. What is that wood??? Tiger maple? It's unbelievable. The wraps, varnish and flaming…the ferrule fit…the SUPER FINE TIPS!!! Even the damn ferrule plug and tube. I can't wait to cast it!!!!!!! -GA, MD
---
Andrea Budelli of Italy sends this pic of a spectacular Sesia River 'bow!
Jeff & and Casimira,
I received my rod yesterday afternoon, and its perfect. You must have read my mind. Had I requested a specific color wrap it would have been dark green, and they are! Same goes for the guides and ferrules. Its everything I wanted and did not have to ask for. You guys do beautiful work! I'm 31 years old and have admired cane rods since I was a young boy. I have a couple heavier rods I've picked up at yard sales and redone and fished with and enjoyed it, but they dont compare to the rod you made for me. This rod is much better, and I can tell its going to be a blast to fish. - LD, NY
---
Customer NY from Japan sends this beautiful pic of an Amago he took on a Maxwell-era 39DF Leonard we sold him.
---
Longtime customer Ric L. sends along a pic of a trout he took on his Wagner 8-sided rod: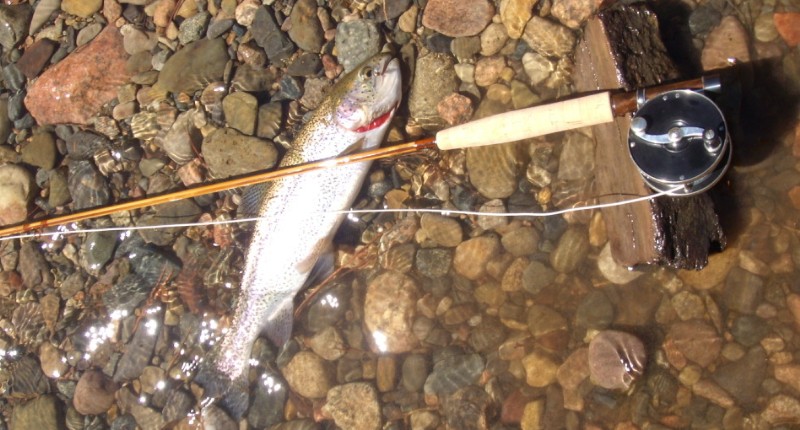 ---
Customer AB from Italy passes along this gorgeous Italian brown. Look at those spots!!!!!
---
J.D. and Casimira,
So I've been traveling quite a bit this summer and hadn't taken adequate time to thank you for the Perfectly Astonishing Bamboo Rod that arrived at my desk a few weeks ago. (Just as it was promised!)
Holy Smokes! That's the prettiest fishing rod I've ever seen, bar none! The finish is just absolutely perfectly flawless. Astonishing that you can get them that good. The color of the wraps and the tipping and the blackened guides are just astoundingly perfect together. I've been fortunate enough to play with a respectable handful of bamboo rods over the past year, and can say that none of them are as aesthetically pleasing as the one that you produced for me.- RP, MD.
---
Customer A.B from Italy says, "Having fun with your rod" and forwards this pic of a River Sesia (NW Italy) rainbow.
---
JH sends another pic of a gorgeous Penn's brown!
---
Our friend Mark Kosinki forwarded a pic of a beautiful rainbow a while back(page down.) His wife Martha caught this gorgeous Yellowstone brown!!! Yowza!
Wagner afficianado Ed Wolff sends along some pics of browns taken out West...
Customer JH from Lewisburg sends along a couple nice pics, a fawn and a nice brown taken at Penn's:
---
Jeff, I have fished the 7'3" quad you built for me several months back the last four weeks in a row. In the last four weeks, I have caught and released about 200 fish on your quad. And, this is not an exaggerated number and doesn't count any 'quick releases'. They have run the size gamut from 4" to 22". I would say at least 3 dozen have been in the 19" plus range. I have had a number of runners, jumpers (doing the aerial thing once hooked) and circlers (circling around me as I try to land them, usually giving them about 5 to 7 or so minutes to start to tire). I have turned over the rod on the harder/longer fights. This rod has been amazing. Not a hint of any set, no trouble with the larger fish. It's become my favorite rod to fish on my home water. Anyway, I have had such a good month with this rod I thought I would share my story with you. - RL, NM
---
Jeff,
I just want to let you know how much I enjoy fishing the Trico, The Very First Fish on the rod was a beautiful 9" native brookie. Four hours of hard stream fishing and eight naïve trout later I hooked and landed a nice 14" blue spotted brown. I was totally amazed at the amount of back-bone the little Trico demonstrated and how well it handled a fish of this size in fast water
Have a great day
EW, Erie
---
Just to let you know, my Patriot goes to "work" with me almost every day during the field season and I have logged MANY hours on the stream with it. It has caught over a dozen species of fish with me and is still straight as an arrow and I really believe is just hitting its stride. I'm pretty sure it will be around longer than myself. I only own a couple rods and it is basically the only rod I fish with unless I'm in a canoe. It would be nice to have its larger cousin to tackle tailwaters with weighted flies and the occasional small mouth bass. Thanks and take care.
CW
---
Hi Jeff and Casimira
I received my rod on Monday,and later that day my wife went into labor.My son Theo was born yesterday -- he is a beautiful boy, and my wife and I are very proud parents.I wanted to just let you know that the rod is a work of beauty,and I am a proud owner of a JD Wagner rod.Your craftmanship and skill as a bamboo rodmaker is exceptional. I am hoping to fish with it this weekend, and will let you know how it performs.
Sincerely,
ES
---
Our friend Mark Kosinki forwards this pic of a beautiful fish he took on his 8' 5 wt. There are tons of stories behind this rod, but we'll let the fish do the talking :)
Dear Jeff and Casimira,
I see from your web site that you're back from your trip. It looks like the San gave up some of it's bounty, and the scenery looks just lovely. That's a very pretty Grayling too Casimira!
Well, I finally got my hands on my rod. I'm speechless.....it looks good in the pictures but they can't begin to compare to how it looks and feels in real life. Congratulations to you both on an absolutely wonderful piece of work. I couldn't be happier.
Sadly, all my reels and lines are in my travel bag up in Canada and I only had 2 days in the DC area before having to return to Abu Dhabi. So not only did I not get the chance to fish it, but I couldn't even lawn cast it :-( I did put her together and "pretend/dry" cast without a line though, and I can already tell that it has the kind of action I was looking for. I'm completly confident that it will cast and fish as beautifully as it looks--the perfect combination of utility and aesthetics that I was looking for. Thanks so much.- PB, MD.
---
Our friend Tom Zap sent us this pic of a beautiful CO trout and his newest Wagner Rod....
---
"Hello Jeff and Casimira:
The rod arrived yesterday afternoon in perfect condition, with perfect being the best word to describe it. The quality of your work is truly inspiring. The varnish is like glass, the hardware is subtly detailed, the spacer (? burled walnut?) has a deep rich color, and the cane itslef is that dark, almost burnt carmel that I had hoped for. My wife and I spent 20 minutes just looking at it. I can only hope that I fish the rod as well as it deserves to be fished. That won't happen until next week probably, but even if I don't catch anything for pictures I'll let you know how it casts. With any luck though, I should be able to send you something nice with a fish in it by fall at the latest. The check was mailed this morning and should reach you by no later than the middle of next week. I'll keep in touch, and thank you both again so much for all your time and hard work, and for signing my book.
Best Legards,
R. K."
---
Dear Casimira and Jeff,
Just letting you know the moment I was waiting for just happened! The UPS delivery person arrived at the office a few minutes ago and the rod arrived safely.
In a word—gorgeous. The rod is a wonderful rich, deep color. Stunning work: the translucent wraps, the luscious varnish, the spectacular reel seat, the original hook keeper, the quality stripping guide, the carefully polished line guides… I would be pleased with any rod if any single aspect of the rod had work of this quality; but your rod is a complete package in that all the components are of exemplary quality.
Now I can't wait to cast it. I'm heading out of town this evening. I won't get to cast the rod until Sunday sometime. I'll let you know what I think. Even worse, I won't be able to fish it until late April/early May once general trout season opens here. Drat!Thank you for the obvious care that went into my rod. It is most definitely among my prize possessions. D.T.-Ca.
---
Our good friend Tom Zap sent us this pic of a nice Frying Pan brown. Be still my heart....
---
My good friend Bill Lotz sent this pic of a nice rainbow he took on his Wagner 5 wt. I can't let this pass: here's a brown I took on my 5 wt!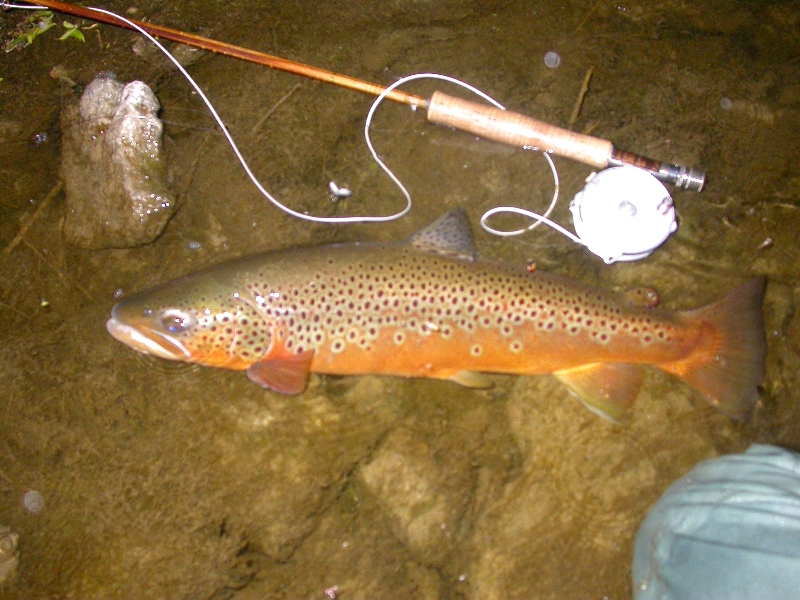 ---
Our good friend David Guida sent us this pic of a very nice NJ brown taken on his 7'3" Patriot. David owns Livingston Camera Mart, and any of the good pics taken by me for this site were accomplished with equipment I've bought from him. If you are in the market for a camera need some advice and a square deal, give David a call!
---
Jeff, I took my new rod out in the back yard for a few practice cast's this weekend (Idaho trip in two weeks), and what a sweet piece of wood!!! The feel is as soft and silky as anyone has a right to hold...What a great job of building such a beautiful treasure..I can't wait to show it to the Cuthroat's on the Salmon River...Thanks a lot!!! J.H.-Fla.
---
'Covert' Clint of Columbus, Ohio sent this pic of a beautiul brown, taken from a covert location with a covert fly. He took this whopper with his 7'3" Patriot....niiiiiice!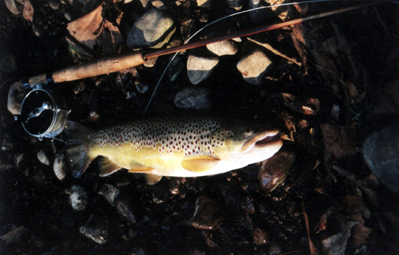 ---
Jeff & Casimira ,
You are Wizards , Magicians , this rod is awesome. It is everything I had in my mind when I asked you to build it for me. I'm stunned........... Then I cast it........ I may never recover. Wow! Thank You , Thank You , Thank You. , You guys are the best! M.K.-N.J.
---
Charlie Walton in New Zealand with a nice fish he took on the rod he built at our bamboo rodbuilding class. Doesn't get any better.....
---
Hello my friends. The Hunt was delivered at 8:00 pm last night. I am going goose
hunting today and pheasant hunting on Friday so I won't have the opportunity to cast the
rod until the weekend. However, I didn't want to delay expressing to you both my
gratitude for your exceptional workmanship. The rod's aesthetics are impeccable. It is
as elegant as any Tom Dorsey creation, and I can't think of any higher praise. I almost
took it to bed with me last night. The money I paid is hardly adequate compensation for
your artfulness, talent. and professional integrity. I am grateful to you both. Best - R.B.-CO
---
Hi Jeff,
I picked up my rod at UPS this morning. It arrived safely. I only had a short time to look the rod over due to the fact that my wife insists on torturing me by keeping the rod under wraps until Christmas! The rod is awesome. The finish is impeccable and I love the red agate stripping guide. I can't wait to get a line on it. Happy Holiday,
V.Z.- N.J.
---
Casimira and Jeff - I received the rod on Friday and it is just perfect. Words can not express the beauty of the rod. I have not had a chance to really cast it yet and put it thru its paces, but I was able to lawn cast it yesterday for a few minutes and it is incredible. When I return from the beach, I plan to take it to my favorite brook trout stream and put it to good use.
Also, I would very much like to have you build a twin "Hunt" model. Just let me know what I need to do to work that out. Thanks again for the "Brookie Rod", it is really a piece of art.
A very grateful fly fisherman,
BB-GA
---
Dear Jeff and Casimira,
In the past 20 years, I have purchased cars, houses, roofs, decks, diapers....well you get the idea. I've never purchased anything I was so excited to receive. My anticipation was coupled with a slight fear that I wouldn't like a quadrate rod vs the traditional look. Also, what if I didn't like the color vs. honey color, etc.
I've enjoyed everything about this process and I make every effort to use your rod every day. Days I can't fish, I at least look at it and think about using it. Your rod is beautiful in every possible way. I love the way feels, casts and looks. I even like how I feel about me when I am fishing with it.
Your work is truly art and I can't help feel closer to god when I'm using it.
Thanks ever so much for your efforts on my behalf. I will think well of you every time I fish my wonderful 3 wt quadrate rod. Someday, I might even ask for a 5 wt!
Sincerley,
TL-IL.
---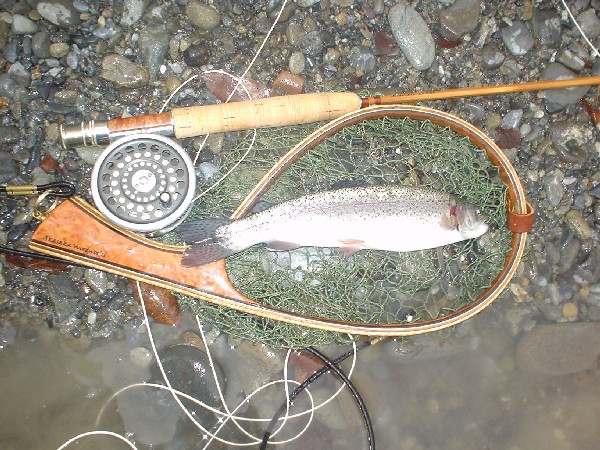 This is a picture forwarded to us from a customer in Japan...this is his first trout on his Wagner 7'3" 4-5 wt.
---
Casimira & Jeff, The exqusite rod you made for me arrived safely today. It is even better than I imagined it would be. Although I was only able to lawn cast it briefly after it got here, I can tell that it is simply a wonderful fishing instrument. Your craftsmanship is the best there is and you made the rod exactly the way I wanted it. It's perfect. I already consider it to be one of my prized possessions. I just can't wait to fish with it.-TM, PA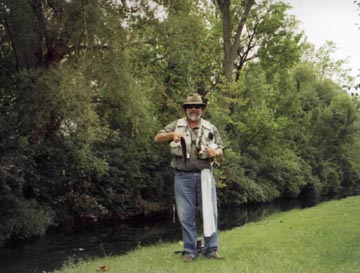 One of our most loyal customers, Terry Lambacher. Terry owns the largest collection of Wagner rods, including several Presentation Series rods. We will always be grateful to him as he was one of the first people to support us and spread the word about our work. Just as an example, once while being treated in the emergency room of a hospital he waxed poetic about our rods to the attending physician!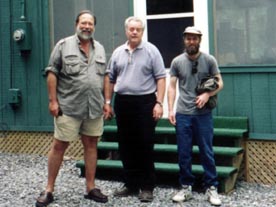 This photo was taken at rodbuilder Bob Sholiton's place along Penn's Creek. That's Terry Lambacher on the left, Bob and myself. Bob had graciously invited us up to fish the Green Drake hatch. Bob is an accomplished rodbuilder and several years ago purchased a set of our planing forms. Bob, much to our thanks, has always been effusive in his praise for them.
Terry stops by our shop from time to time to grace us with his presence. Sportsman, decorated Veteran, public servant, world traveler- we say thanks!
---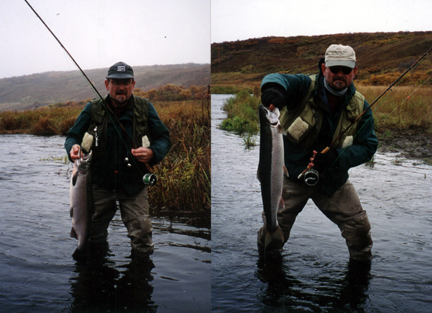 This is Bob Selb with his Wagner 8' 8-9 wt. with a fine brace of steelhead in Alaska. Bob has been one of our biggest supporters and represents our work in the Eastern US through shows and his shop.A warm thanks, Bob, for all you've done for us!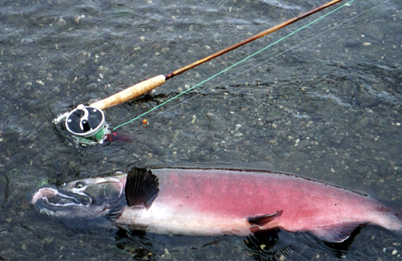 One of many silvers taken by Bob in Alaska on his 8' Wagner. Teamed with a Bogdan reel, we are in great company!
---
Jeff,
I took the new little guy out and theres only one word to describe it - AWESOME!
For a short rod, you wouldn't believe the incredible amount of line that it can cast. When you catch an average fish, it feels like a whale. I just absolutely love the rod. Thanks for making it for me. DD-Cleveland
This pic was forwarded by George Klein of Ohio. We met George last year when his wife purchased a rod for him, and he subsequently attended our cane rodbuilding class to try his hand at building his own cane rod. This is a 5 1/2 lb brown that he caught in Argentina. George related that he took a number of fish in this size range with his Wagner 7 1/2' 5 wt.
RECEIVED THE ROD TODAY.BEAUTIFUL WORKMANSHIP.- T.V., Whitehaven, PA
Jeff,
I got a chance to try out my new rod on Wednesday. Workmanship is excellent and the rod casts like a dream. Got one nice 16" rainbow along with a mess of other fish. It will be a nice addition to my collection.
If you ever come to northeast PA, get in touch with me and I'll take you to fish at a great private club that I belong to.You can sleep in the clubhouse as my guest and and three meals are served each day.
Let me know if you can get here. -JS, PA
---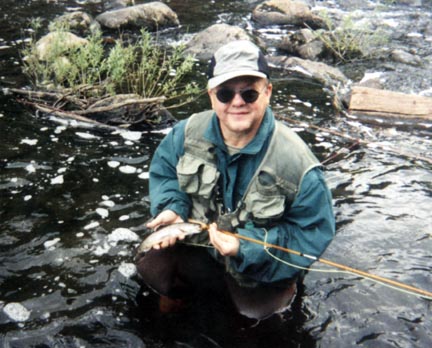 This is Paul Blonski of Cleveland, Ohio fishing on the Au Sable. He's using his Wagner 6'3" 3 piece 4 wt. This is an ideal rod for fishing small streams and great for trips as it packs down to about 25"...small enough to easily fit in a suitcase or the overhead compartment of a plane.
This is Paul again, this time fishing at a private club with his 6'3". Nice fish!
---
Hi Jeff & Casimira!!! I just wanted to let you know that Tony received our birthday present today! I say "our" present because, although I bought it, you put so much skill, care and kindness into crafting it, that you deserve as much, if not more, credit. (smile) His reaction was "beyond poetic description"!!! He was absolutely speechless... but I honestly can't remember ever seeing him so happy!!! I told him how wonderful you are... and I am going to give him your email address... but I just wanted to say thank you again, for what you do... but, even more so, for who you are! It has been such a pleasure and, thanks to you, I am sure that this is a birthday, he's always remember fondly. Warmest regards and best wishes, as always... C G-NYC
Hi ....I just recieved the most beautiful bamboo rod in the world for my birthday.
C really surprised me this time. I am holding it in my hand this very moment and will probably sleep with it tonight. What beautiful workmanship.
Thank you both so much.
TC-NYC
---
Dear Jeff and Casimira: The rod/reel has just arrived. I was informed by our receptionist that a package had come for me and the box looked like there may be a golf club inside! I gave assurance that it was absolutely not a club by any means. The rod is truly a work of art-so much so that I fear to expose it to the elements. I assembled it to get a feel for the action, and was amazed at the power. I can't tell you what a pleasure it has been to have you build this rod for me. As you know there are a lot of folks in your profession, with attractive web-sites, each marketing their skills to perfection. One thing you do well, that impressed me from the start, was the prompt reply to my first e-mail, and the candid analysis of the type of rod I was looking for. Also, you are to be commended for keeping me current onthe status of the work, which actually went faster that I had envisioned.-JT, GA
This is the first fish caught by Doug Siefert with the rod he made at our first cane rodbuilding class. Doug came all the way from Norway to take our class. After finishing his rod, he tested it on the brown trout waters of Norway. He finished out the rod exceptionally well.
---
Thank you so very much. Your method of doing business is very refreshing to me!
Happy Holidays!- JK, MN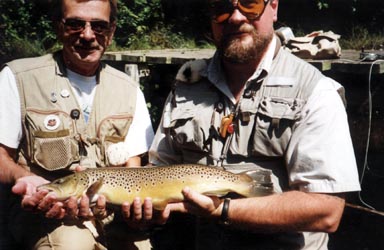 On the left is one of our longtime blank customers, Hap Barnes of New York. When he's not restoring Model T's, Hap enjoys finishing out our varnished bamboo rod blanks. They have served him and his friends well over the years!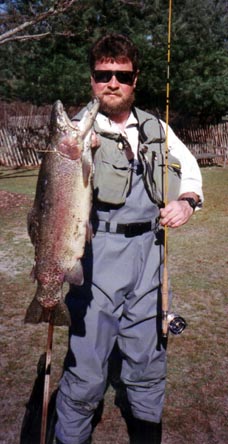 This is Hap's friend (also shown above) with a huuuuge fish taken using our 7'3" 4-5 wt. blank that Hap finished out.
---
Jeff, I am sitting in my office having just opened the rod tube and assembled the rod. Wow!!!! You folks did a magnificent job. I am very grateful that there are still people who care about quality and beauty. I will be able to cast the rod sometime this week. If it casts as well as it looks the brookies are in deep trouble. Thanks again.- BP, NC
This is my lovely wife, partner and cane rodbuilder, Casimira. She's fishing on the South Platte in Wyoming and this is her $1,000 fish. We traveled to Saratoga to visit rodbuilder Jon Parker. Jon and his lovely wife Carol host a yearly get-together for rodbuilders and these events are always a blast. We flew into Denver, rented a car and headed for Wyoming.
The year we attended the conditions were miserable, and this was her only fish. We figured that this fish cost about a grand. Oh well, at least the company was great!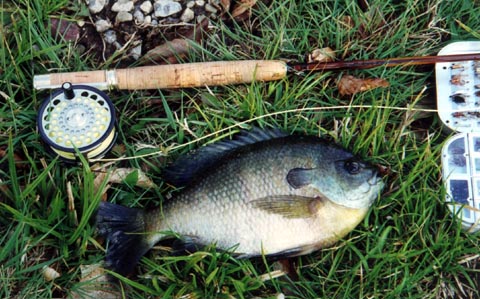 Our good friend George McCabe forwarded this pic of one of his 'pet' bluegills. George has a little pond out back filled with these jumbos, as well as a few grass carp. The rod is one from his collection, a 1-2 wt., that provides a ton of fun with these bruisers.
George is one of the most interesting people we know. He's a first-rate photographer, classic tackle guru and veritable encyclopedia of knowledge about old tackle. George is somewhat iconoclastic and loves to deflate the pomposity and pretense that is sometimes associated with fly fishing. He's been known to string up a Gillum salmon rod, match it with a Vom Hoffe reel and indulge in one of his favorite fishing pastimes: sight fishing for carp.
Fishing for 'freshwater bonefish' with a flyrod has gained some popularity, but George was a pioneer. He's even got a fly named for him: the McCabe crawfish. Don't look down your nose at fly fishing for carp! They are very wary and extraordinarily strong. You find a tailing fish, creep into position, and put a pinpoint cast in front of their nose. Set the hook and hold on!
For those that are purists, and find fishing wet flies objectionable, carp can be caught on dry flies. George has had a few epic battles with his 1-2 wt. Wagner rod and his pet grass carp. These fish go up to 15 lbs.! Although he's yet to land one, he's fought them skillfully for up to 15 minutes with this little rod that only weighs about an ounce!
And oh yes, he's hooked them on dry flies.
This is George with his Wagner 8' 5-6 wt. George loaned us his original Paul Young Para 15 that became the model for this rod. George went on his usual trip all the way up to Maine this year(summer, 2001) and fished his Wagner teamed with a nice Bogdan reel. Not content to catch the 'normal' fish in Maine- pike, smallmouth, brookies and landlocked- he instead decided to focus on one of the most elusive types of quarry, the very rare bronze trout.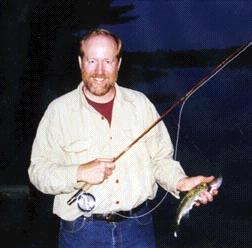 Whoa! Man, did he do good! Lucky for him he invested over $2,500 in his rod and reel outfit because the bronze trout is notoriously wary and hard-fighting. They've been known to strip 150 yards of backing in the blink of an eye. Just look at the picture and notice how this trout actually resembles a small tarpon.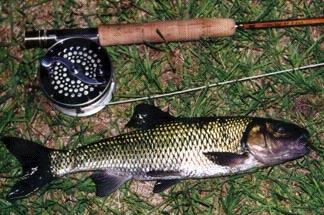 What an angler!!!
Hi Jeff,
What a fabulous job on this rod!! This is a work of art. I can't wait to get into a river and try it out. Thanks once again for a real treasure !! Talk to you soon.
Best to Cas.-SD, NY
This beautiful brown was caught and released by David Guida of New Jersey. David owns a couple of our Patriot Series rods and is one hard core fisherman! He's been known to fish his Wagner rods in sub-zero temperatures. That's dedication! David said he took this fish on a pheasant tail nymph, and the strike was so subtle he didn't even know it was a fish until it began to move.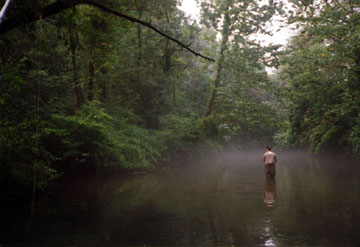 Another beautiful shot provided by David Guida. This is his fishing companion along an unnamed New Jersey stream where the beautiful brown featured above was taken.
This is Mr. Russell Pander, who forwarded this pic of a 23" Farmington River brown. Niiiice!
This is Tom Zapotosky with a 29 lb. king salmon taken on the Salmon River using his Wagner 9' 8-9 weight salmon stick.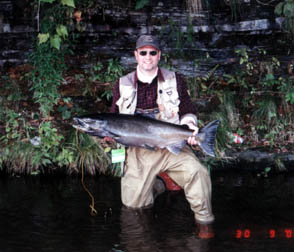 Another pic of Tom's fish, along with his rod.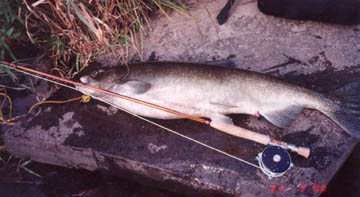 This is Tom's first steelie taken with his Wagner rod- his first ever on cane!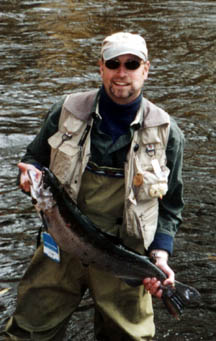 This is Tom again, this time using his Wagner to take a bright Kenai River Sockeye:
Another fish from the Alaska trip: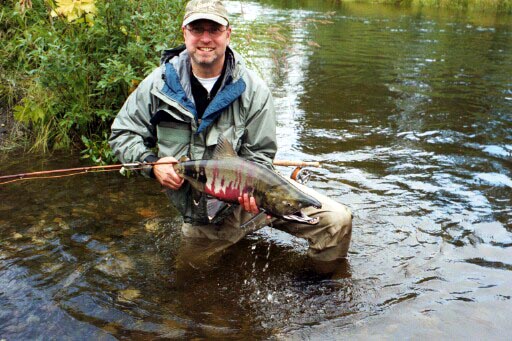 This is Dr. Bob Nunn of N.J. Bob took our rodbuilding class a few years back and has set up his rodbuilding shop in his living room. Talk about living with the craft! In addition, Bob and his son both own Wagner rods. Bob is showing off a nice brown taken in New Zealand.
Mr. Jeffrey Smith purchased a 6'8" 3 wt. from us and he sent us this pic of the first trout he took with his new rod, along with a wonderful letter:
"The rod is fantastic. I own several other good rods and yours is in the first rank.
I'll be saving now for the next one."
Jeffrey took his fish from this pool. Reminds me of a small stream where I learned how to trout fish. Thanks Jeffrey!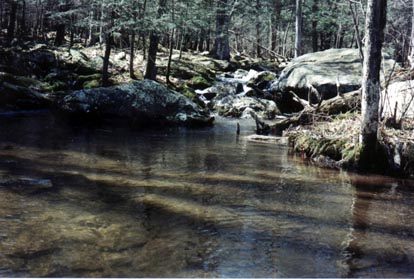 Fishing was a bit slow this weekend, but it didn't matter! The rod is perfect. It'll take a few trips to learn to make the best use of its action. Nevertheless, after a few casts, I was getting into the groove, and it was sweetest casting of my life.
The fish I caught were more "alive" on the line than ever before. What a treat to own and use such a marvelous instrument!
Someday soon I'll have a partner who can take pictures for you.
All the best.
CD, MD
Below are a couple shots of my bud, "Blue-Wing Olive" Ted Bryan aka "the Purist". It's a wonder he can even get out to fish at all, considering the amount of time he spends running from his many women friends...but when he does the trout better beware!
I call him Blue-Wing because that's the only fly he owns. It doesn't matter what's hatching- caddis, sulfurs, tricos, caenis, etc...he's always fishing a BWO. Surprisingly, he occasionally catches a fish. I attribute this more to the rod he uses(a Wagner 8' 5-6 wt.) and a long leader then any particular skill level on his part.
Ted, I'll be up to fish with ya again soon. This time you can pick up the tab for pizza. Ted recently was outfitted with a type of pacemaker that allows him to electroshock fish when the going gets a little tough.
Here's a nice brownie I took with my 7' 4 wt. on a Green Drake at Fishing Creek.(Lamar).
Bamboo Garden Copyright Kim Robertson