Reel Seats and Accessory Rodbuilding Components by Classic Sporting Enterprises
Along with their ferrules that set the standard in cane rodbuilding, we are proud to offer a number of items by Classic Sporting Enterprises.
Mayfly Series Cap and Ring Reel Seats
These fine seats are made from 18% nickel silver and figured hardwoods. Exquisitely proportioned, they feature fine knurling on the grip check, slide band and cap. The butt end of the cap has a pair of concentric circles reminiscent of the classic seats of the F.E. Thomas Company. The fillers are generously mortised, and CSE takes the time and attention to detail when cutting the mortise- the grain patterns are centered to show off the wood's beauty to maximum effect.
These seats are available in three sizes with 5 standard woods: Birdseye Maple, Tiger Maple, Curly Walnut, Butternut and Spanish Ceder. From time to time they also have some special woods like Mesquite burl, Zebrawood, Honduras Rosewood, Babunga, etc. The wood spacers are supplied unfinished so you can finish to your own taste.
Sizes, Specs and Prices
Large Mayfly: recommended for line weights 5-7 and up, .715 OD w/5/16" bore.
Medium Mayfly: recommended for line weights 3-5. .645 OD w/5/16" bore.
Baby Mayfly: recommended for line weights 1-3, .595 OD w/13/64" bore.
Prices: $73.20 each + shipping. Metal components only (no spacer), $64.75 + shipping.
CSE Screw Lock Seats
NEW! These are 3.5" nickel silver seats in .720 size, available in up or downlocking, and feature a fine thread with dual locking nuts, bull's eye end cap and a tapered, mortised spacer. Spacer choices include bird's eye and curly maple, mesquite, Brazillian rosewood, Claro walnut, butternut, Spanish cedar and rosewood. Gorgeous and the highest quality as you'd expect from CSE! Price is $85 + shipping.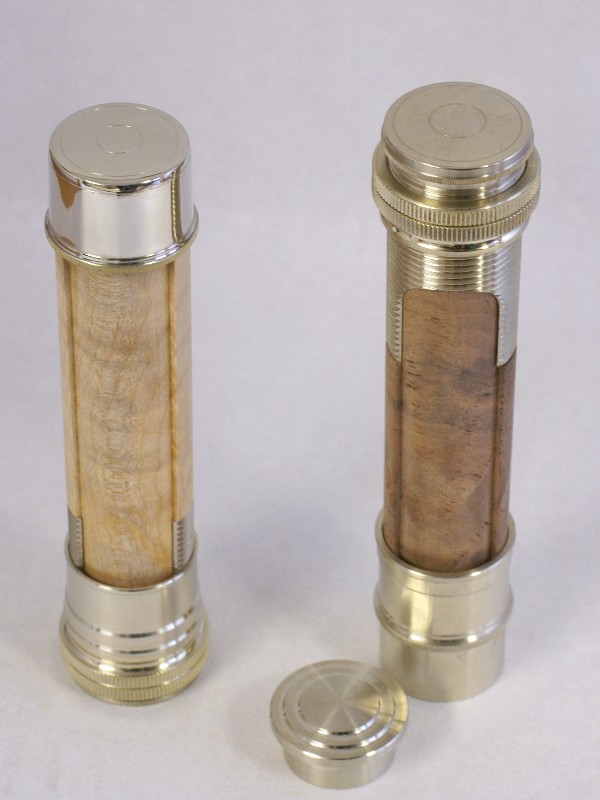 CSE Nickel Silver Seats!
A stunning new seat from CSE featuring a NS barrel, mortised to accept a wood filler. Perfect for your finest building efforts! $86.80 + shipping. CURRENTLY UNAVAILABLE!
Strap and Ring Hook Keepers
Made w/18% nickel silver, the strap and ring is perhaps the most traditional and widely-used type of hook keeper. Available in sizes 9/64- 14/64. Cost is $3.50 each + shipping.
Hex-Chex* TM
For builders that don't want to form their own hex winding checks with our Hex Punch, we offer the pre-formed CSE checks. 18% nickel silver, stepped down leading edge, crisp corners. Available in 64th increments from 18-31/64ths. Cost is $9.30 each + shipping.
CSE Round Winding Checks
Round, non-knurled and polished nickel silver checks that work great with our hex punch. Available in sizes 14-30/64. Cost is $7.00 each plus shipping.
Hex and Round Butt Plates
These beautiful butt plates are useful in a variety of applications, but are used mainly as a very classy decorative touch to the end of all-cork reel seats. Polished to a mirror finish, I've used these on bamboo spinning and baitcasting rods, and most recently, as an end cap on a bamboo wading staff. Hexagonal butt plates have a traditional style with a domed face and are available in 7/8" and 3/4" sizes. Cost is $15.50 each + shipping. Round butt plates have a shallow mushroom shape and are available in two sizes 7/8" and 3/4" at $12.35 each + shipping.